Radka Bacheva, Head of Sales and Business Development at Wazdan, discusses all things player engagement as she highlights how Wazdan's network promotions are elevating the overall gaming experience.
CasinoBeats: For those who might not know, what is the inspiration behind the network promotions that you offer?
RB: When creating our network promotions, we wanted to provide our partners with something that stood out immediately and would attract players the world over. As a result, we have run five network promotions with the Xmas Drop coming in November this year, in which we have managed to develop our diverse portfolio.
A key element was to not only present players with exciting slots but also increase their engagement with huge prizes that can be won, all while enjoying their favourite gaming experiences.
Running network promotions with a total annual prize pool of €4,000,000 stands as a testament to our success and upward trajectory.
CasinoBeats: Can you walk us through the mechanics of the Mystery Drop™ promo tool? How does this differ from other promotional tools that are available on the market?
RB: Mystery Drop™ is a promotional tool designed to give players a thrill beyond the reels, randomly awarding cash or physical prizes.
The rules and mechanics of this promo tool are simple, yet extremely effective. First, players need merely choose their favourite Wazdan slot and then opt into the promotion. When the Mystery Drop™ pop-up hits the screen, all they have to do is pick 1 out of the 9 offered Mystery Box rewards. This element of choice adds to their excitement.
Players can enjoy the extra winnings, which are added to their balance automatically. No additional wagering is required.
This promotional tool stands out from others in the market by offering not only cash prizes but physical ones too, while also being easy to understand. It also works with all our games – we set everything up in the back office and no additional integrations are necessary.
A great proof of its quality is the Game Feature of the Year Award at the CasinoBeats Developer Awards 2023 as well as the Best iGaming Product in 2023 Award at the European iGaming Excellence Awards.
CasinoBeats: Why does Wazdan choose to run its promotions around major holidays such as Easter, Halloween and Christmas? Have you found that this has an impact on the number of players that take part?
RB: Major holidays such as Easter or Christmas always were a period of promotions and campaigns in the industry, and naturally, we participate in this too.
During these times players are often looking to immerse themselves in the season or festivities, and we are glad to provide them with various opportunities to do so. Without looking too far ahead, the next network promotion is the Xmas Drop with a prize pool of €2,500,000. Of course, its theme fits in with the upcoming Christmas holidays, so in addition, we have released the Xmas Edition series of our top slots for players to celebrate this Holiday season in style.
Not only do we run our seasonal network promotions such as Mystery Fall, HalloWIN Drop or Xmas Drop, but also constantly expanding our portfolio with titles such as Los Muertos™ II that fit said theme or create revamped editions of our top-performing slots, such as Halloween Edition or Xmas Edition slots series. It's no secret that aligning the theme of the current major holiday is a recipe for more engagement from players, that is why we match our promotion's theme to a given period.
Of course, we are not just limiting ourselves to holiday-themed promotions. We're always looking to promote headline games, which can be found in our God's Clash and Wazdan Break the Rules network promotions.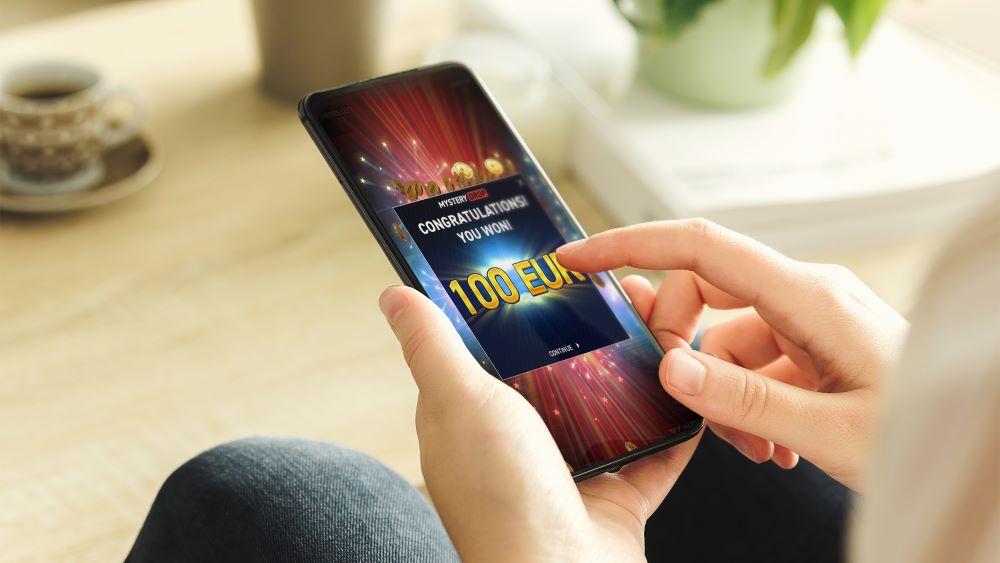 CasinoBeats: For your partners, how important can tools such as network promotions be in building player engagement and retention?
RB: We put a premium on player engagement while crafting our solutions, be it slots, promotional tools or network promotions, as we believe it is a key to great results for both parties.
Although Mystery Drop™ is our flagship engaging promo tool, we also provide our partners with tools such as progressive jackpots through Jackpot Rain™, instant prizes through Cash Drop and Prize Drop™, and free spins through Wallet Free Spins and Free Rounds. While they haven't been used in our grandest network promotions yet, at Wazdan we run tailor-made promotions specifically for select partners.
We don't want to limit ourselves to providing our partners with only games. Though they are engaging on their own, a suited network promotion gives players an extra incentive to play, provably boosting our client's retention rates.
In addition, because we provide our partners with everything – from the total prize pool, through the marketing materials, to continuous support from the client service team, they can focus solely on engaging their player base and generating exceptional results. In addition, we got great feedback from our partners and the number of sign-ups for our network promotions continues to grow.
CasinoBeats: From an industry-wide point of view, do you think we need more innovation within the player retention space?
RB: At the heart of every network promotion lies a promotional tool, which is the most engaging part besides the tantalising prize pool. To keep players engaged and ahead of the innovation curve, we strive to continually improve our solutions and provide them with new promotional tools. We have just launched Jackpot Rain™ and will soon be unveiling other new promotional tools that we are currently working on.
The demands of the current iGaming space are constantly changing, which is why it is necessary to monitor player preferences in various markets to provide them with the most suited engagement-boosting tools possible.
CasinoBeats: Do you think the popularity of network promotions will continue into 2024? If so, how does Wazdan plan to lead the industry within the promo space?
RB: The battle for players' attention will only get fiercer with every passing year, so we believe promo tools and network promotions will become a must-have in every provider's arsenal. We're confident that the popularity of our network promotions will only increase, as we continually venture into new markets.
Looking ahead, we don't want to give too much away, but we are planning to hit the ground running in 2024 in terms of network promotions. We also have plenty of new promotional tools coming out next year.