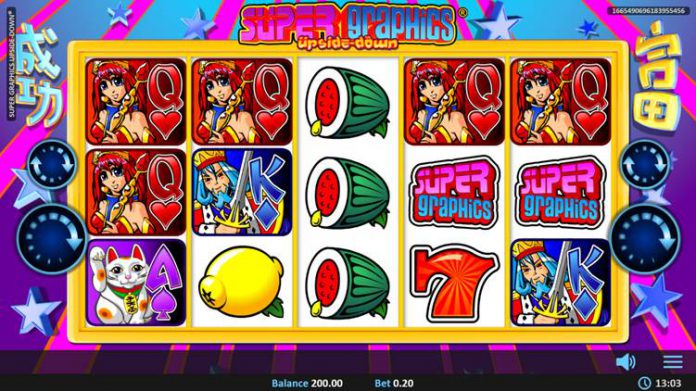 Casino content developer Realistic Games has re-launched its most popular game, Super Graphics Upside Down, following a dramatic overhaul.
RELEASE DATE
"Later this year."
BACKSTORY
The five-reel Japanese anime-inspired game originally hit the market in 2011 within a virtual slot cabinet in order to capture an arcade authenticity.
Featuring a unique free spins bonus round with upside-down reels, it quickly became a player favourite and has gone on to become the studio's most successful slot.
Super Graphics Upside Down was joined by a second, three-reel version, called Super Graphics Super Lucky in 2015, and there are now plans for a third title in the series later this year.
THE UPDATE
Super Graphics Upside Down now been upgraded into HTML5, giving it a full-screen presentation as well as superior sounds and more immersive graphics.
The slot's popular female host, Satsuki, is even more animated and has been optimised for mobile users discovering its gameplay for the first time.
THEY SAY
"Super Graphics is easily our most popular game and what we are renowned for within the industry. We are delighted to be able to release an even bigger and better version of the game to ensure it remains as fun as ever to play.
"It would be a shame to give too much away at this stage, but I'm happy to reveal that fans of Satsuki and her waving cat can expect more excitement (and free spins) very soon," – Robert Lee, commercial director, Realistic Games
IS THERE A DEMO OF THE UPDATED VERSION?
Sure, you can watch the trailer here: