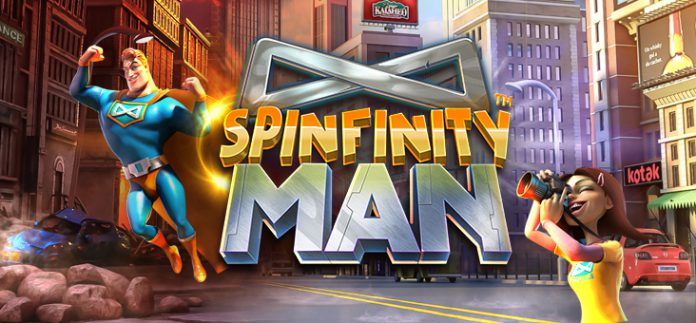 Spinfinity Man is the latest online slot release from Malta-based casino content developer Betsoft Gaming.
RELEASE DATE
Out now
THE PITCH
"Get ready for super fun in the superhero-themed slot Spinfinity Man by Betsoft Gaming."
GAME DETAIL
Featuring a 7×7 cluster grid and wins of up to 5000-times the stake, there's plenty to be excited about. Not only can our titular hero use his superpowers to amass huge wins, but he's also ready to face off against his evil nemesis: the dastardly Mr X. Chase him through Metropolis and battle for your chance to win huge in the bonus rounds!
While saving the city is no easy task, it's not hard at all to get right into the action in Spinfinity Man. Upon launching the base game, you'll instantly find yourself at home.
Destroy four or more clusters of symbols of various values and enjoy your spoils. There are exciting cluster combos further enhanced by the powers of our hero: a laser eye that burns away columns, symbol-shattering ice breath and his telepathic powers which remove symbols to allow for a cascade of epic proportions!
Deeds do not go unnoticed in Metropolis. The more you play, the greater the chance your fans will try and snap a picture of you! With the flash of a camera, a cluster of symbols will explode and trigger an immediate cascade. The evil Mr X is zooming around the city; find him 10 times by triggering the symbol during a cascade, and enter the bonus round.
BONUS FEATURES
Once our hero finds the trail, he'll face off against his greatest nemesis: Mr X, who has his arsenal of power. In the bonus game, every 2×2 animated symbol is replaced by one of Mr X's signature tricks, potentially setting up the fight of the century where players can win up to 5000-times their bet. All you have to do to face him yet again is collect an additional 10 Mr X symbols.
If you're feeling lucky, you can always choose to double up your winnings by flipping the coin of the city. You might win some, you might lose some, but when you don the cape of Spinfinity Man, there's plenty of fun and action in this fast-paced, high-risk slots game.
THEY SAY
"Spinfinity Man is a fun, frivolous, feature-packed game built to capitalise on the huge appetite for superhero stories, Each aspect of the title, from its outstanding character designs to its cinematic gameplay, has been carefully calibrated to attract and engage players," – Annamaria Anastasi, Betsoft's marketing director