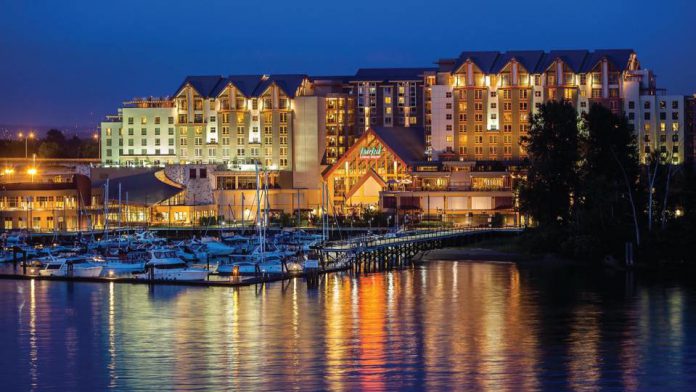 Great Canadian Gaming Corporation is striving to achieve further success after reporting across the board increases during the second quarter of the year.
The firm, who yesterday introduced its new Pickering Casino Resort development, saw revenue for the period increase 20 per cent from $295.2m to $354.4m driven by a full quarter of operations from the west GTA gaming bundle (acquired on May 1, 2018), the introduction of table games at Woodbine and expanded gaming capacity at Elements Casino Mohawk.
Adjusted EBITDA also rose 25 per cent to $153.7m (2018: $122.7m), primarily due to increases in Ontario and partially offset by increased operating costs related to expanded gaming across the region.
Rod Baker, GCGC's chief executive officer, explained of developments undertaken during the period: "The second quarter ended with the successful completion of the sale of Great American, which now allows Great Canadian to focus on its core growth markets as we continue to execute on our operational and development plans for 2019 and beyond.
"This includes the upcoming launch of the new world-class casino resort in Pickering, Ontario, which will be called Pickering Casino Resort. The casino building, including related food and beverage amenities, are expected to complete by the end of the first quarter of 2020.  
"We also launched expanded gaming at Elements Casino Mohawk on May 10, 2019 – the gaming facility now features 1,500 slot machines and 60 table games. In addition, we worked diligently with OLG to extend operations at Casino Ajax beyond the opening of Pickering Casino Resort, allowing this gaming and horse racing facility – that was previously expected to close – to continue making economic contributions to the community it serves."
Before adding a brief future outlook: "2019 is a year of significant capital expenditures as we build our infrastructure in Ontario to execute our strategic plan. We have already accomplished several major milestones in the first half of the year, including the new building addition at Great Blue Heron Casino, as well as the previously mentioned gaming expansion at Elements Casino Mohawk. 
"For the remainder of 2019, we continue to work towards completing several developments in Ontario, particularly at Elements Casino Flamboro and Elements Casino Grand River, which will include expanded gaming and new food and beverage offerings.
"As we unveil the completed projects in the coming months and years, we expect to see the fruition of our investments in Ontario for many years to come."