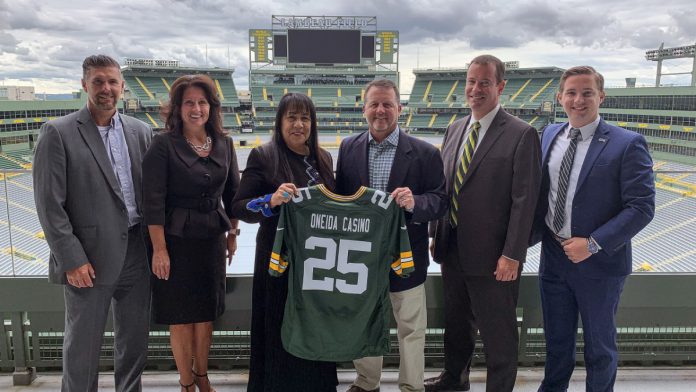 The Green Bay Packers and Oneida Nation have revealed a significant extension to their longtime partnership, after naming Oneida Casino as the official casino of the franchise.
The team and Oneida Nation have worked together on a number of different programs for more than 20 years, including a partnership since 2002 that includes the Oneida Nation Gate on the east side of Green Bay's Lambeau Field home.
Lauded as a partnership that represents the first of its kind between the team and a casino, it follows changes to National Football League guidelines that allow more robust partnerships with such entities.
"As two strong Northeastern Wisconsin organisations, the Packers and Oneida Nation have a long history of working together," stated Craig Benzel, Packers vice president of sales and business development. "We look forward to continuing to build upon our partnership by creating new and exciting experiences for fans in the years ahead."
Through the partnership, the Packers and Oneida Casino offered several sweepstakes this summer, giving fans a chance to win 2019 season tickets, as well as a VIP weekend for the Packers vs Raiders game on Sunday 20 October.
This forms part of Fantennial Weekend presented by Oneida Casino, which will include a variety of events that will help celebrate 100 years of the NFL.
"Oneida Casino is celebrating our 25th anniversary this year, and we are proud to help mark that milestone by enhancing our partnership with the Packers," added Louise Cornelius, gaming general manager for Oneida Casino. 
"As the Official Casino of the Green Bay Packers, we are excited to work even more closely with the organisation to offer unforgettable entertainment for fans, visitors and community members."
The Green Bay Packers get the new NFL season underway next week, Friday 6 September, as the franchise visits Soldier Field to take on Chicago Bears.