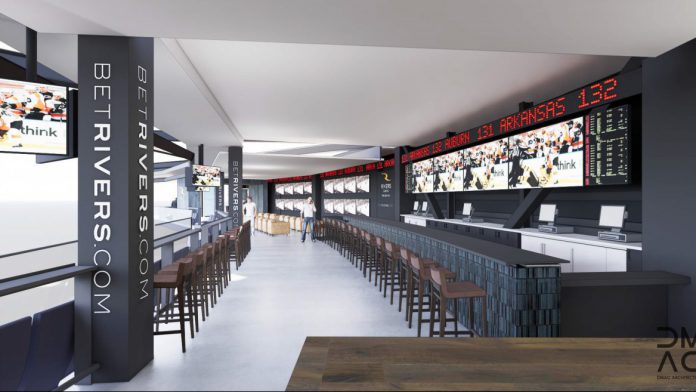 The soon to be Rivers Casino Philadelphia and BetRivers.com have given an insight into two new sports lounges that are set to debut when the Philadelphia Flyers takes to the ice for its home arena season opener tomorrow.
Taking on the New Jersey Devils, the development forms part of a multi-year partnership that saw the current SugarHouse Casino and its PlaySugarhouse.com entity become the official sportsbook partners of the Flyers and the Wells Fargo Center.
The Rivers branding reflects the casino's impending transition from SugarHouse Casino to Rivers Casino Philadelphia, as well as the online component, PlaySugarhouse.com, which is to transition to BetRivers.com in both Pennsylvania and New Jersey.
"We are thrilled to launch our partnership with SugarHouse, soon to be Rivers Casino and BetRivers.com, through these sport lounges which will undoubtedly elevate the game day experience at the Wells Fargo Center," explained Valerie Camillo, president of business operations for the Flyers and Wells Fargo Center. 
"Both spaces are stunning additions to what has already been the most transformative phase of our renovation project and we know our fans will be delighted with the design and experience."
The Rivers Casino Philadelphia sports lounge, in the redesigned south end of the arena, is a 5,680 square-foot space that features ten 86″ screens grouped throughout the seating areas, mixed with odds boards and an additional 16, 65″ monitors at the bar.
Alternatively, the BetRivers.com sports lounge will face the bowl so fans can watch the live action as it happens below, and features dozens of live action screens, measuring 86″, 65″ and 50″ respectively.
Ambassadors of the property will also be on hand in both to assist guests, with patrons also able to utilise the BetRivers Pennsylvania app on their personal devices.
"The Wells Fargo Center will be Rivers Casino Philadelphia's home away from home," stated Rob Long, general manager of the casino property. "When fans walk into the Wells Fargo Center and the sports lounges, they'll feel the same excitement and comfort that will be available at the casino when our new state-of-the–art in-casino sportsbook is unveiled later this month."
The agreement between the parties also incorporates a marketing partnership that includes advertising inside the arena's bowl and throughout the concourse as well as radio, billboards and digital media placements
"We can't wait for Philadelphia sports fans to experience these new sports lounges," added Mattias Stetz, COO of Rush Street Interactive, the operator of the in-casino and online sportsbooks for SugarHouse, soon to be Rivers Casino Philadelphia. 
"We know how passionate this city is when it comes to sports, and we took great care to make sure these lounges have everything guests need to watch and get in on the action as it's happening."