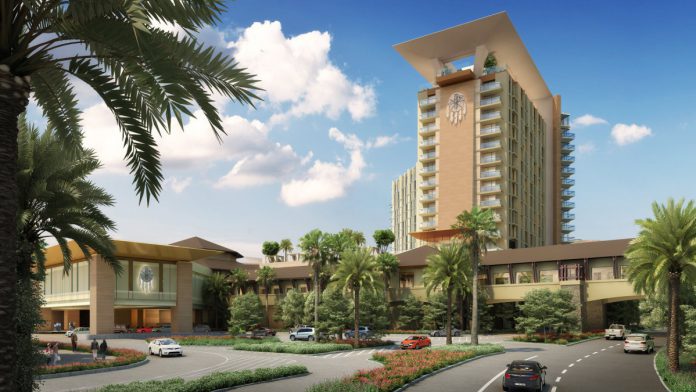 San Manuel Band of Mission Indians has added further depth to the roster of sporting sponsorships held by its San Manuel Casino property, after signing an expansion of their 13-year long partnership with the Anaheim Ducks.
As a result of the deepened agreement the addition of the newly created 'San Manuel Winner's Circle' is to be felt, alongside a Native American Heritage Night, as well as  increasing the number of hospitality and branding assets.
"The Anaheim Ducks are proud to be partners of San Manuel Casino and the San Manuel Band of Mission Indians. Our organisations align in two key pillars; giving back to our local community and creating one-of-a-kind experiences," explained Bill Pedigo, chief commercial officer for the Anaheim Ducks.
"We are proud to expand and extend our 13-year long relationship, and we feel there is no better partner to do that with than San Manuel Casino."
In addition to the casino continuing to receive significant exposure throughout the Anaheim Ducks' Honda Center home for all games and events, the new 'San Manuel Winner's Circle' has also been introduced.
Incorporating San Manuel Casino branding, as well as VIP membership perks for patrons, members will receive a number of benefits, such as access to the concierge entrances at the venue and special events.
The area's members will also receive exclusive benefits at San Manuel Casino, creating a shared VIP experience at both the arena and property. 
Furthermore, in honour of the San Manuel Band of Mission Indians, the Anaheim Ducks will hold an inaugural Native American Heritage Night to commemorate the tribe and tribal culture.
"The shared value of delivering a best-in-class guest experience between our organisations excites us in growing one of our longest partnerships in the region," added Peter Arceo, general manager of San Manuel Casino. "With the Ducks, we look forward to another long-term commitment to delivering a thrilling experience for all."
As well as the Anaheim Ducks, the San Manuel Casino is also a partner of a number of Los Angeles-based sporting franchises, including the Dodgers, Chargers, Kings and Galaxy, as well as the Vegas Golden Knights.