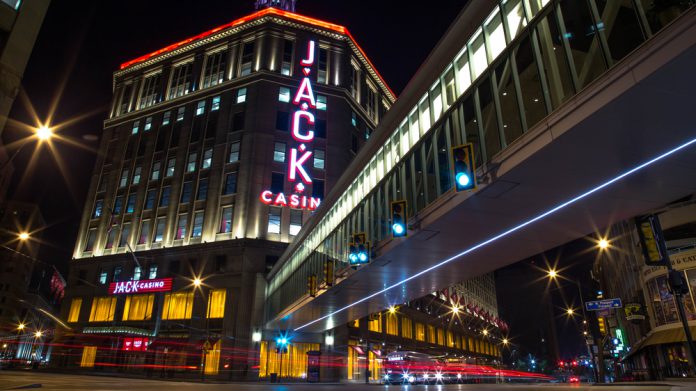 New York headquartered real estate investment trust Vici Properties has entered into a $843.3m agreement with Jack Entertainment that will see the firm acquire two Ohio-based entities.
Vici is to purchase 100 per cent of the membership interests of affiliates that own casino-entitled land and real estate and related assets associated with Jack Cleveland Casino, located in downtown Cleveland, and Jack Thistledown Racino, situated in the city of North Randall.
"We are excited to partner with the team at Jack Entertainment as they focus on investing and operating in the Cleveland market," explained John Payne, president and chief operating officer of Vici Properties. 
"Ohio continues to be one of the healthiest and fastest growing regional gaming markets and we are thrilled to add high-quality, urban real estate to our portfolio at an attractive capitalisation rate. 
"This transaction represents another great example of Vici's ability to creatively source and execute accretive deals that bring value to our shareholders, while furthering our strategic goal to diversify our roster of best-in-class gaming operators."
Simultaneous with the closing of the transaction, expected to be early 2020 subject to regulatory approvals and customary closing conditions, Vici will enter into a triple-net lease agreement with Jack Entertainment. 
Coming at an initial term of 15-years, with four 5-year tenant renewal options, the master lease will have an initial total annual rent of $65.9m.
"Jack Entertainment looks forward to continuing to operate Jack Cleveland Casino and Jack Thistledown Racino," explained Mark Dunkeson, Chief Executive Officer of Jack Entertainment. 
"The combined efforts of our gaming properties together with the other Cleveland assets operated by our sister companies including the Cleveland Cavaliers, Avenue Shops at Tower City and the May Company Building, have created a strong connection to the city and allows us to remain heavily committed to the Cleveland area. 
"We have invested more than $700m into Jack Cleveland Casino and Jack Thistledown Racino since the properties opened in 2012, and we will continue to invest significant capital into these properties which will have a lasting positive impact on the city and Cuyahoga County."
Jack Cleveland Casino opened in May 2012 and boasts 96,000 square feet of gaming space, 1,300 gaming machines, over 120 table games and eight food and beverage outlets.
Jack Thistledown Racino opened in April 2013 is situated on 129 acres, and features approximately 57,000 square feet of gaming space, 1,459 gaming machines and six food and beverage outlets.