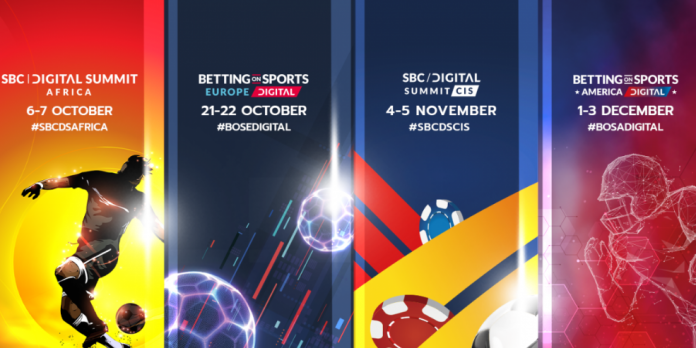 SBC has finalised its autumn 2020 conference & exhibition calendar, with two new regional showpieces focusing on Africa and the CIS added to its highly popular Digital Summit series.
Meanwhile SBC's two successful sports betting events Betting on Sports Europe and Betting on Sports America will also be transferred to the virtual environment as a response to the continuing COVID-19 crisis.
This means the SBC Summit Barcelona – Digital on 8-11 September will be followed up by SBC Digital Summit Africa (6-7 October), Betting on Sports Europe – Digital (21-22 October), SBC Digital Summit CIS (4-5 November) and Betting on Sports America – Digital (1-3 December).
Due to the continuing uncertainty around international travel and the potential risk associated with large-scale events, SBC has embraced the industry's desire to focus on virtual rather than physical events this year. The market-leading virtual conference and exhibition series has continued to evolve since its launch in April, engaging more than 15,000 executives to date.
As key industry shows such as G2E and ICE have been cancelled or postponed, virtual events offer our industry the opportunity to continue to learn, connect and do business.
The new events for Africa and the CIS will focus on the many emerging opportunities and unique challenges of doing business in two regions currently attracting strong interest from the international betting and gaming industry.
The new events will use the same advanced online platform and mix of high-level content, interactive exhibition and networking roundtables that proved so successful at the global SBC Digital Summit in April, and at subsequent editions dedicated to Latin America and North America, and at CasinoBeats Malta Digital.
SBC Digital Summit Africa takes place on 6-7 October 2020 and includes a two-day conference focusing on the future of sports betting and gaming in a region that continues to grow and develop rapidly. It will feature 75 senior executive speakers from both local and international operators already established in African markets, who will share their insight.
This will be accompanied by a 25-booth interactive exhibition that will allow operators to view the latest industry innovations and talk business with leading suppliers in Africa, along with networking roundtables and workshops for delegates to connect with fellow attendees and build new relationships.
Rasmus Sojmark, founder and CEO of SBC, said: "We're excited about the prospect of staging our first ever event dedicated specifically to the betting and gaming industry in Africa, and bringing our popular virtual conference and exhibition format to a new audience.
"The event will provide a valuable forum for operators, affiliates and suppliers in the region to connect, share their knowledge of established and emerging markets across the continent, and identify the many business opportunities it offers."
SBC Digital Summit CIS, delivered in association with Sports Media Holding, is scheduled for 4 – 5 November 2020.
In addition to a line-up of 75 senior executive speakers sharing their experiences and ideas for the CIS sports betting and gaming industry, the event will include an interactive exhibition and multiple networking opportunities.
Sojmark continued: "At our previous events, conference sessions about opportunities in the CIS have always proved popular, so we're delighted to be staging our first event fully dedicated to the region.
"The CIS is a major opportunity for the international industry, with existing markets such as Georgia booming and attracting leading operators such as Paddy Power Betfair, GVC Holdings and Betsson, while major new markets are soon to open up in Ukraine and Uzbekistan.
"However, knowledge about these markets is hard to come by and the industry network is developing quickly. We are very happy to partner with Sports Media Holding for this event, a key player in this region."
Lasha Machavariani, founder of the Sports Media Holding and Setanta Sports Media said: "SBC Digital Summit CIS will be an important opportunity for senior executives from operators and suppliers with an interest in the region to connect, learn more about local markets and talk business with key players."
SBC's previously announced trade shows this autumn will convert into virtual events:
Betting on Sports Europe – Digital will take place on 21-22 October, with the eight-track conference attracting more than 100 speakers to debate the key topics on the European betting industry's agenda.
A range of networking sessions, roundtables and workshops will enable delegates to engage in active discussion and build new connections, while the 30-exhibitor expo floor will allow delegates to keep abreast of the latest product innovations.
The second edition of the world's largest dedicated sports betting event, Betting on Sports America – Digital, is planned as before on 1-3 December. It features a top-notch roster of leading executives from major operators, regulators and sports organisations sharing knowledge and ideas that will shape the future of the US sports betting industry.
Along with the content, there will be a wide range of opportunities to connect and talk business, including an interactive expo hall showcasing the latest innovations from leading suppliers, themed networking roundtables and workshops.
For updated information on the new and revised events please visit our website www.sbcevents.com. For enquiries about sponsorship and exhibitor opportunities, please contact [email protected].