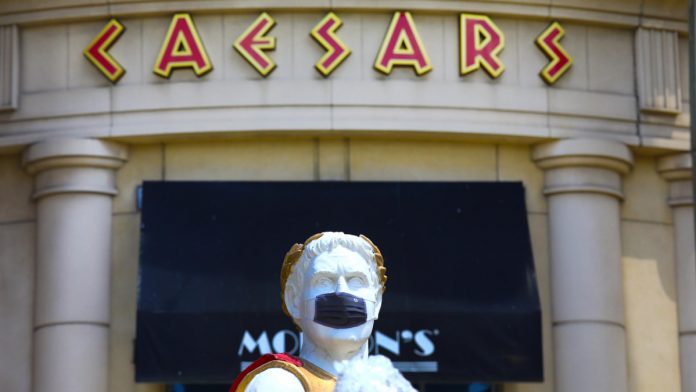 Regional locales continue to outperform "destination markets" for Caesars Entertainment, as the casino operator voiced optimism at an eventual recovery of travel and tourism in the US and especially in Las Vegas.
The company makes the comments in its latest quarterly report, which represented a hectic period for the firm with completion of its Eldorado Resorts merger confirmed, a £2.9bn acquisition of William Hill detailed, multi-year sports betting partnership entered with ESPN, and US properties divested.
Revenue during Q3 for the expanded company came in at $1.37bn (2019: $663m), with significant increases felt across its casino and parimutuel commissions and hotel divisions. 
Net loss during the reporting period finished up at $926m, as opposed to an income of $37m for the comparable period in 2019, with adjusted EBITDA falling to $463m from $810m.
Tom Reeg, chief executive officer of Caesars Entertainment, explained, "Our third quarter was a busy period for the company. We officially closed our merger with former Caesars on July 20, 2020. We announced a recommended offer to acquire William Hill plc on September 30, 2020 and successfully raised $1.9bn of new equity that closed on October 1, 2020. 
"Additionally, 55 out of our 56 properties have now reopened and operating results continue to improve sequentially. Regional markets continued to outperform destination markets and we remain optimistic regarding an eventual recovery of travel and tourism in the US and especially in Las Vegas."
For the nine month period to September 30, 2020, revenue for the company increased slightly to $1.97bn (2019: $1.93bn), net loss reached $1.2bn from an income of $94m, and adjusted EBITDA declined from 2019's $2.31bn to $736m.
Bret Yunker, chief financial officer of Caesars, added: "Our third quarter ending balance sheet was significantly impacted by the cash confirmation process required pursuant to the Rule 2.7 announcement. In early October, a subsidiary of Caesars entered into a £1.5bn interim facilities agreement with two large international banks. 
"Execution of this committed debt financing allowed the Company to release $2bn of restricted cash that had been escrowed on September 30, allowing us to fully repay a $900m draw on the CEI revolver and return excess cash liquidity to our balance sheet. We continue to have a strong liquidity position with both our revolvers undrawn and significant unrestricted cash."