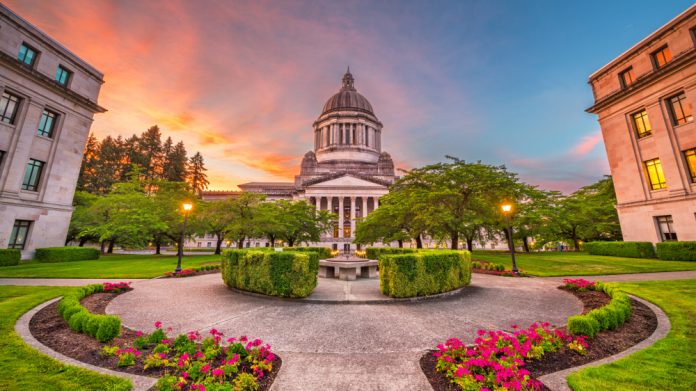 Maverick Gaming has once again backed sports betting efforts in Washington state, with  bipartisan legislation set to be heard in the state senate.
This comes as the Senate Committee on Labor, Commerce & Tribal Affairs gets set to hold a public hearing regarding SB 5212 today (Thursday 4 February), with the proposal striving to create a regulated, legal, and taxed marketplace for sports betting in Washington.
SB 5212, which has earned the support of Washington State Labor Council, local mayors and Chambers of Commerce, and boasts bipartisan sponsors State Senators Curtis King and Marko Liias, would bring land-based sports wagering to cardrooms and racetracks currently licensed in the state.
Supporters advocate that tax revenues generated by sports betting will help bolster critical public services during and after the pandemic, while also stabilising and creating family wage jobs across the state.
Further local leaders and organisations supporting SB 5212 include Lakewood Chamber of Commerce, Seattle Southside Chamber of Commerce, Burien Mayor Jimmy Matta, Kirkland Mayor Penny Sweet and Tukwila Mayor Allan Ekberg.
On Tuesday 2 February, a bipartisan group of State Representatives also announced their support in a letter to the Senate Labor, Commerce & Tribal Affairs Committee. This was signed by Representatives Lovick, Boehnke, Springer, Hoff, Walen and Vick.
"The history of regulating and taxing gambling in our state is appropriately cautious. Washington has successfully managed a legal gambling system that is a source of tax revenue for public services, and includes efforts to combat problem gambling," explained Eric Persson, Maverick Gaming CEO and co-founder. 
"Commercial cardrooms have been operating in this system since 1997. SB 5212 will create a taxed and regulated marketplace for sports betting that fits our state's measured approach by restricting sports betting to on-premise only, and would limit commercial sports licenses to only the currently licensed operators, thus curtailing future expansion. 
"SB 5212 will also ensure no commercial business has a sports betting license before negotiations for tribal compacts are complete. I thank the Senate Committee for hosting a public hearing on this legislation and on behalf of our 2,000 teammates, I urge them to advance this proposal."