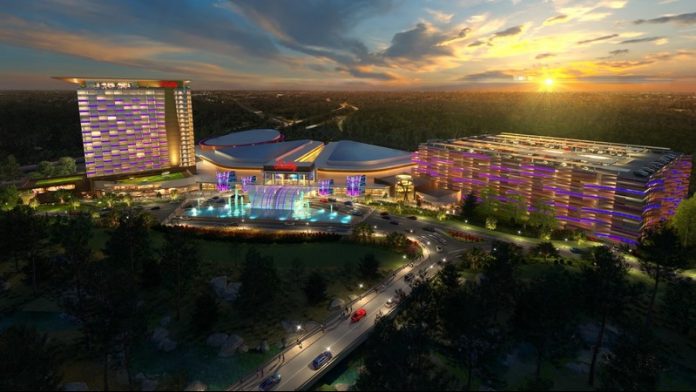 Bally's Corporation has submitted its $650m casino resort proposal to the city of Richmond, Virginia, which is accepting bids from potential partners ahead of a public referendum on the project later in the year.
Bally's Richmond Casino Resort, which is projected to take approximately 18 months to construct and stipulates an anticipated opening in 2024, intends to foster significant opportunities for local organisations and minority-owned businesses.
The project, which will span more than 1.6 million total square feet, will include a casino, sportsbook, hotel, resort-style pool, dining and retail outlets, and a flexible space for live entertainment and conferences.
Upon completion, Bally's estimates that the property will attract approximately 3.7 million visitors annually, generating approximately 1,700 full-time equivalent employment opportunities and approximately 2,000 total employees with FTE payroll. The project is also estimated to generate approximately $415m in total gross revenue annually.
Soo Kim, chairman of Bally's Corporation's board of directors, explained, "As a former director and the largest shareholder of Richmond-headquartered Media General, I have a strong interest in the growth, development and success of this great city. 
"I am grateful for the opportunity to present this project to the city of Richmond, which will not only generate hundreds of millions of dollars in revenue, but, more importantly, thousands of high paying jobs. The project also demonstrates Bally's deep commitments to supporting local communities, partnering with local businesses and promoting diversity."
Among other amenities and offerings, Bally's Richmond would include 2,500 slot machines, 90 table games, 30 poker tables, a high limit gaming area and VIP lounge, 4-star, 250-room hotel, 3,000 square foot indoor/outdoor pool area that will include a stage, 16,000 square foot multi-dimensional spa, 45,000 square foot multi-use event space, and 13 food and beverage venues.
"We are honoured about the prospect of partnering with the city of Richmond as it embarks upon this exciting and unique adventure," said George Papanier, president and CEO of Bally's Corporation. 
"Our proposal represents an unprecedented project for the Richmond community that will embrace and showcase the city's existing culture and traditions in an environment positioned towards entertainment and leisure. The Bally's Richmond would provide the city with a vibrant new attraction that is sure to turn Richmond into a dynamic tourist destination."
Adding: "Bally's brings a wealth of experience to this project. We have deep roots in land-based, regional casinos, demonstrated by our national, multi-property portfolio. We are a premier omnichannel gaming company with complete online sports betting and online gaming capabilities. 
"With a database comprised of 15 million players that offers unparalleled cross-marketing opportunities, we are uniquely-situated to successfully develop and operate the Bally's Richmond, and ensure future economic opportunity for the city of Richmond, its local businesses and its residents."