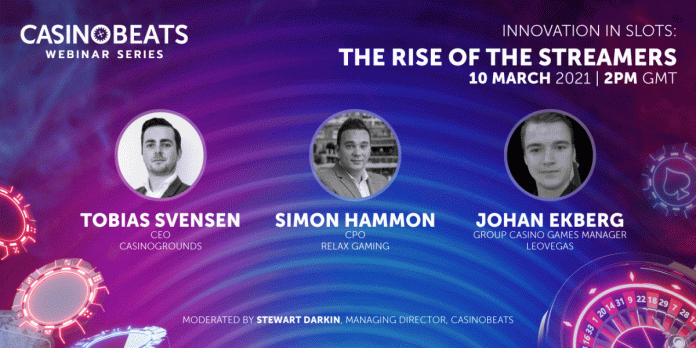 The CasinoBeats Innovation in Slots series continues on Wednesday 10 March with The Rise of the Streamers, featuring Tobias Svensen (CEO, CasinoGrounds), Johan Ekberg (group casino games manager, LeoVegas) and Simon Hammon (chief product officer, Relax Gaming).
In the third episode of the interview series, CasinoBeats managing director Stewart Darkin examines the impact of streamers on the casino and slots industry, with input from the perspectives of operators, suppliers and streamers.
The session covers a number of key issues arising from the growing popularity of slots streamers, who can attract audiences of thousands of players on Twitch and YouTube as they put the latest games through their paces.
During the discussion, Svensen, Ekberg and Hammon address the role of streamers as ambassadors for brands, how valuable they can be in promoting new titles and giving them visibility among the crowd of releases each week, the extent to which streaming has influenced game design, and how to identify the right streamers to work with. 
They also examine the important role popular streamers have in promoting the responsible gambling message and demonstrating safe play to their audiences.  
Svensen said: "What we've been trying to do is break the taboo about gambling [by] playing at sensible stakes relative to income, educating the players about responsible gaming, bankroll management and the various tools you have to limit your gameplay to maintain a safe level."
Ekberg revealed that LeoVegas views streamers playing on its sites as ambassadors for the brand and for online gambling in general, so it expects them to act in a responsible, realistic way. 
"We are really hard on the streamers who are playing on LeoVegas, because we want them to provide a real experience," Ekberg said. "Play with your own money and do it in a sensible way. Keep highlighting in the streams that if you do hit the big win, that this is not something really common and it was something really lucky. And also show the losses when you play." 
Hammon added: "It's about responsible gaming, which is becoming first and foremost the general industry mindset, and representing real play in a safe an environment as possible, in a way that doesn't encourage any problem gambling."
To watch the full discussion, register for Innovation in Slots – The Rise of the Streamers: Wednesday 10 March at 2pm GMT. 
The Innovation in Slots series also features: 
4 February:

Fresh Twists on Evergreen Titles

with Nik Robinson (CEO, Big Time Gaming) and Enrico Drago (SVP, IGT PlayDigital). 

Watch on demand here

.

10 February:

Slots Fit for the Future

with Aspire Global's CEO Tsachi Maimon.

Watch on demand here

.

22 March:

Slots Abuse Masterclass

with Ozric Vondervelden and Ed Dickerson of Ada Lovelace.

4 April:

Slots Start-Up Culture

with Karolina Pelc of Basic Strategy. 
Visit the SBC Events website to learn more about the CasinoBeats Innovation in Slots series.