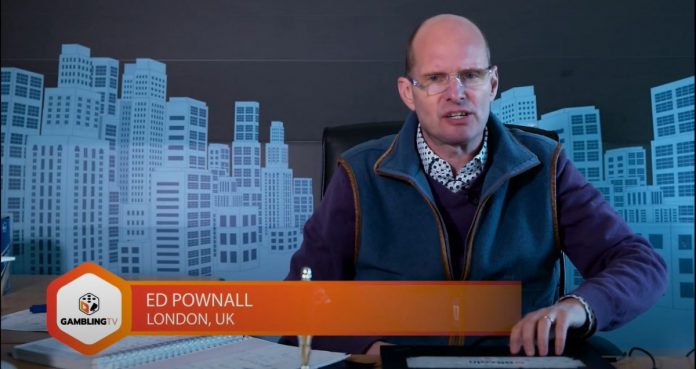 Ed Pownall's The Industry Eye series today relaunches in its new home on GamblingTV.com, as SBC continues to expand its video content offering.  
Pownall is a renowned betting broadcaster, with appearances on BBC, NBC, CNN, ITV and talkSPORT on his highlights reel, and also a stand-up comedian. The Industry Eye is his wry take on the big news stories in the betting and gaming industry, which has built a strong following since its debut on CalvinAyre.com in 2016.
The series looked to be over after CalvinAyre.com's decision to cease operations as a gambling news website and focus on Bitcoin SV related-projects, but GamblingTV has now stepped in to give the show a new outlet. 
Fans of Pownall's work can watch the first GamblingTV edition of The Industry Eye below.
Pownall said: "I'm thrilled we can continue with the show as the gambling industry has been very good to me. This allows me to keep a finger in the gaming pie while also educating the world on the powers of Bitcoin SV.
"When one door closes, another one opens, so I'm pleased that SBC hadn't had time to put the double lock on before I came knocking. GamblingTV is a great new home for us. I've already got my slippers."
Andrew McCarron, managing director of SBC, said: "Ed's unique view of the betting and gaming industry would have been sadly missed, so we're pleased to have been able to give The Industry Eye a new home.
"This is the latest step in the expansion of our video and audio content offering, which has included the launch of GamblingTV and of a number of new webinar, podcast and interview series focused on the big issues and latest product innovations for the industry." 
GamblingTV is the central hub for the best videos and podcasts from the sports betting, casino gaming, lottery, slots, and sports business industries. It features both SBC's original content and the pick of the offerings from other media outlets.