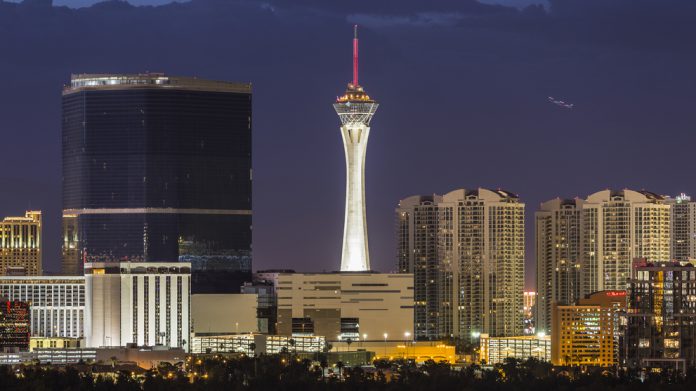 Golden Entertainment has voiced optimism at current trends across its casino and distributed gaming operations, after reporting that the year's first quarter represents significant improvements across key financial metrics.
For the three month's ending March 31, 2021, the gaming operator reports a 15.6 per cent revenue increase to $239.7m (2020: $207.2m), with net loss swinging from $32.6m a year ago to income of $10.6m, and adjusted EBITDA climbing 95 per cent to $59.5m (2020: $30.5m). All casino and distribution gaming operations, with the exception of Las Vegas' The Strat, exceeded Q1 2019 EBITDA levels.
Of that revenue figure, gaming surged 39.1 per cent to record $177m (2020: $127.2m), food and beverage dropped 18.6 per cent to $33.8m (2020: $41.5m), rooms fell 28.1 per cent to $18.3m (2020: $25.6m), and the group's other segment declined 17.9 per cent from $12.7m to $10.4m year-on-year.
Casino improved a little over one percentage point to $129.5m (2020: $128m), with adjusted EBITDA up 60.1 per cent to $51.1m (2020: $31.9m). 
The Strat generated positive adjusted EBITDA in each month during the first quarter of 2021 as occupancy improved significantly between January and March, with all other casino properties increasing materially when compared to the first quarter of 2019.
Distributed gaming revenue for the first quarter of 2021 was $109.9m, which represents a 39.1 per cent increase from 2020's $79m, with adjusted EBITDA surging to $20.9m compared to $7.1m a year earlier.
Blake Sartini, chairman and CEO of Golden Entertainment, commented, "Our first quarter operating results reflect significantly improved revenue and net income, and record quarterly adjusted EBITDA. 
"These results highlight strong demand at our properties combined with substantial margin improvement due to the adjustments we have made to our operations. 
"Our company generated over $40m of cash in the quarter, with current trends continuing across both our casino and distributed gaming segments.
"As the year continues, we expect that our free cash flow will allow us to reduce leverage and return capital to shareholders while also providing added financial flexibility to pursue potential strategic growth initiatives."