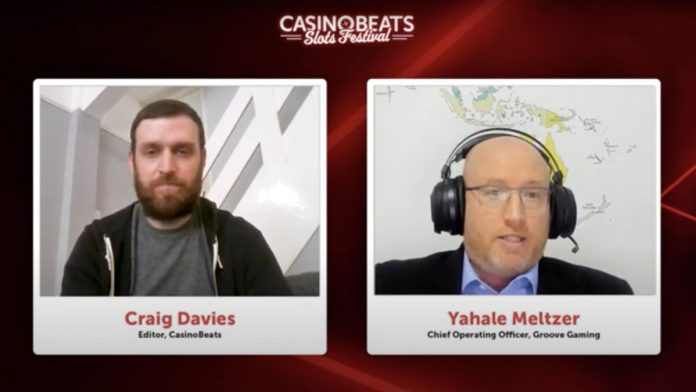 The ever-changing nature of the gaming industry has presented many challenges to developers and content suppliers alike amid the global pandemic.
However, GrooveGaming has leveraged the turbulent conditions and 'quickness to adapt' to place the company 'on top of the market'.
In conversation with Craig Davies, editor of CasinoBeats, at the 2021 CasinoBeats Slots Fest, Yahale Meltzer, chief operating officer of Groove Gaming, emphasised that since its inception, GrooveGaming has focused on meeting the needs of the market and traffic demands – a way of thinking that has been the integral to the team's success.
"We're a global ecosystem with the latest content that can be adopted to each individual operator," he explained. "The amount of content allows us to have a really specific target and build a specific portfolio for operators to have the best performance, depending on where they want to work.
"We work closely with the game providers and we have a strong relationship. That helps us build the right offer and we are able to offer our clients between 20 to 50 new games a week around two new providers a month – which is the critical mass that we think is needed to allow operators to always have no matter what changes they need to deal with. They always have the right content and ability to reach optimisation."
A client-first approach and customer optimisation is the key to unlocking growth within the gaming industry, Meltzer also added, and the focus should be 'more about numbers and revenues' and 'less about big names'.
He continued: "We took our knowledge and we took the infrastructure that we already had. It was easy to adopt and we went out into the world. We know that the operation has a lot of needs.
"They are targeting affiliates, they are targeting marketing and finance – it's a whole world and we thought that we could be the solution that would give them the front face of the gaming side and something that we can build for them and that would give them optimisation, but yet, effortless.
"They don't have the time for AV testing or for ROI so we give them ROI-driven analytics and we give them the information that is just kind of plug and play. That's the focus where we wanted to build and that's what we're building."
The technology-based business and games supplier's COO explained how GrooveGaming is taking a client-focused approach to maximise operators' offerings and manage inventory, with over 1000s slots already included on its game aggregator.
"We're very focused on client optimisation," Meltzer added. "Suppliers often do their own promotion and and they try to get their games promoted, but we offer that as well and I think the added value here is that – and this is why we're testbed – we are really pushing the game providers into meeting the client's need and not just doing something that they think will work but actually listening to what the client wants pushing the game providers to build it the right way for the operator.
"Usually it's a lot more in-game tools so it doesn't require them to have a lot of technology dictation or running around, but it's more about focusing on the marketing and they don't have to allocate new resources and they don't have to get out of the way to have this promotion.
"It's something that is very suitable and we find ourselves very often doing very exclusive things with Groove, because we go to the suppliers and say 'we need why this we need that' or 'let's do this' and 'let's run a test'. This is what the user needs. Make it happen.
"It's a win-win situation because the game provider gets the exposure that they need and it really helps them to get the value and the money from that effort that they had, but also they're really happy and it drives revenues, which is what everybody wants."