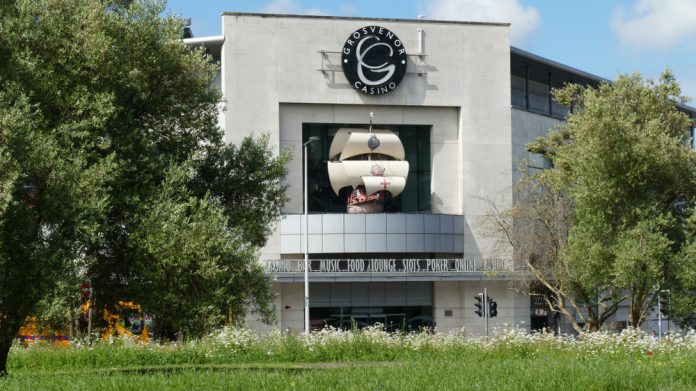 The Rank Group is confident that the pandemic "will see a strong recovery in revenue and profitability," after returning to profitability in H1 due, in part, to an improving performance across its venues through Q1 and into Q2.
A "high customer demand" in the absence of restrictions, which was dampened somewhat amid the emergence of the Omicron variant, is reported regarding its retail estate, with the gambling group's online businesses now said to be "better positioned to continue to deliver on our digital ambitions".
Through the six months ending December 31, 2021, Rank saw group underlying net gaming revenue increase 90 per cent year-on-year to £333.5m (2020: 175.9m), although this does represent a 19 per cent drop from the £408.5m recorded in 2019.
Underlying LFL operating profit for H1 of £24.1m is contrasted to a £41.2m loss one year earlier, and, Rank says, reflects the venues business being open throughout the period as well as the continued impact of COVID-19 on leisure and hospitality venues. 2019 was 60 per cent ahead at £59.8m.
A seven per cent growth in active customers in UK digital was supported by a 37 per cent increase in marketing investment through H1.
On a revenue basis, digital NGR is up seven per cent to £92.1m (2020: £85.9m & 2019: £99.7m), with the group asserted that the reopening of venues supported a growth in revenue from omni-channel customers.
"The successful migration of meccabingo.com earlier this month is the latest significant milestone in the shift to our in-house technology platform," stated John O'Reilly, chief executive of Rank.
"We expect to complete the migration of Grosvenor in the summer which will free up considerable development capability to enable much greater agility and speed in the delivery of products, services and enhanced digital customer experiences, as well as delivering valuable cost synergies.
"At this interim period, I am pleased with the return of stronger customer numbers and revenue growth across our digital brands."
The company's venues division rose 168 per cent YoY but dropped 20 per cent from two years earlier, with Q1's increases dampened by the reintroduction of restrictions through Q2 as case numbers across the UK rose once more.
Grosvenor, which saw all 52 venues operational through the time frame, albeit with social distancing measures and other restrictions in place, reported £34.9m revenue compared to a loss of £20.9 one year earlier. This represents a 27 per cent drop from 2019's £48.1m.
The performance across London is said to have been initially weaker than the rest of the estate, but "improved rapidly" once most travel restrictions were removed in October.
Mecca revenue rose 71 per cent YoY from £38.4m to £65.7m (2019: 86.3m), with its Spanish brand Enracha up 66 per cent YoY from £8.5m to £14.1m but down 22 per cent from £18m generated two years earlier.
"Whilst the trading environment continues to be challenging and cost headwinds are applying additional pressure on the hospitality sector, we have proven that with no restrictions, our trading rebounds quickly," O'Reilly noted.
"Rank is well positioned to regain the robust revenue and profit growth momentum we had created before the pandemic struck. We have strengthened the balance sheet and, with the return to profitability and cash generation, we have been able to accelerate our transformation programme to drive faster revenue growth as restrictions are lifted. 
"There remains some uncertainty as to how COVID-19 will impact our businesses over the coming months, but we are accelerating our transformation investments and are competitively very well placed to benefit as consumers emerge from the pandemic."
With the group's digital business trading in line with expectations and Mecca Bingo returning to pre-migration revenue levels, Rank reports "soft trading" across its venues through the first three weeks of January.
With the expectation of no further material restrictions and with trading therefore improving across its retail businesses during H2, Rank expects underlying EBIT for the year ending June, 30 2022, to be within a range of £55m to £65m.
To conclude, O'Reilly voiced excitement at the publication of the government's white paper regarding the ongoing gambling review: "We are looking forward to the publication of the UK Government's gambling review white paper, expected in the coming months.
"Land-based casinos and bingo clubs are in need of long overdue modernisation and the legislative review will hopefully enable us to deliver a broader and more compelling proposition to our customers."