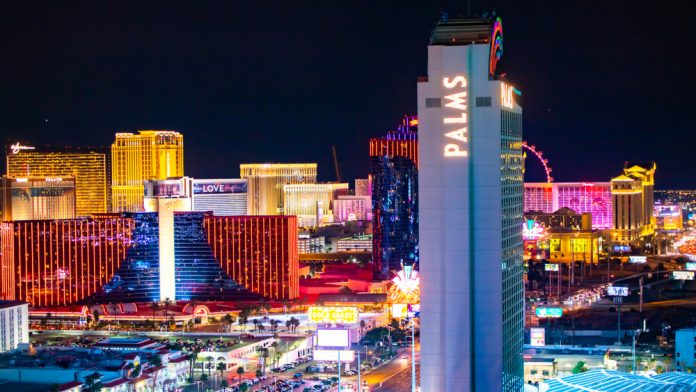 The San Manuel Band of Mission Indians has hailed the upcoming grand reopening of its The Palms Casino Resort as a "historic moment" for Las Vegas.
Closed since March 2020, at the start of the COVID-19 pandemic, The Palms Casino Resort – then owned by Red Rock Resorts – never reopened following its temporary closure and was purchased by the tribe and the San Manuel Gaming and Hospitality Authority for a reported $650m last May.
Following the purchase, the Palms became the first and only Native American-owned casino in Las Vegas and has gone through an "extensive renovation and refresh" ahead of its reopening.
With an official opening date yet to be determined, Palms' general manager, Cynthia Kiser Murphey, noted that it is projected to happen this spring.
She noted: "It's historic and it's very exciting. The tribe has long been searching for the right time to enter the Las Vegas market and when the Palms became available, they really took their time, did their due diligence and decided it would be a perfect fit."
The Palms is a 31.5-acre property with twin hotel towers that sits a mile west off the Strip, just past the Rio All-Suite Hotel & Casino on Flamingo Road. It opened in November 2001 and was originally owned by the Maloof family, the former owners of the NBA's Sacramento Kings.
A $50m renovation was completed in 2012, before Station Casinos acquired the resort in 2016 and subsequently poured $620m into the property.
According to Kiser Murphey, who joined the Palms in December following a 28-year run as a high-level executive in Las Vegas with MGM Resorts International, the tribe will be bringing its "best-in-class hospitality and service" to the Palms while also incorporating its "esteemed culture and tradition".
"Las Vegas is a special market and our job will be to bring something new, fresh and exciting while honouring the San Manuel tradition," Kiser Murphey added. "The culture of the tribe is very people-first. It's focused on tradition, integrity and respect.
"We want to educate people about the history of San Manuel and part of that will be rolling up our sleeves and being extremely integrated with the local community."
She noted that a step in achieving the above goal is the ongoing effort to entice as many of the resorts' former 1,200 employees to return. The tribe has spent the last month or so actively reaching out to the former employees and asking them to come back.
The Palms' general manager stated: "There's no way to underscore how important it is to the Palms to have these employees come home. It would be great to get them all back, but that's probably not realistic. But we want to get as many back as we can."
As for the property itself, Palms will feature a 85,000 square-foot casino, with approximately 700 hotel rooms and suites, a meeting and convention space, a 2,500-seat theater, a pool area and spa, and the Palms Place condominiums.
There will not be a poker room, but the property is in the process of refreshing the former sportsbook space and updating all of the technology in conjunction with a major sportsbook operator that will be formally announced soon.
"(Yaamava' Resort & Casino) is immaculate; it's truly a model of excellence for any gaming operator and we're super proud to have that as a foundation of our company," Kiser Murphey concluded.
"The Palms is a spectacular property. The attention to detail is incredible. But our job right now is to bring in a team to operate the resort so when someone walks in they are immediately going to feel an incredible sense of welcome, hospitality and a degree of friendliness that they have never experienced before.
"This property will be as much about the quality of service as it will all of the fabulous amenities. We can't wait to open the doors and show the world what we have in store."