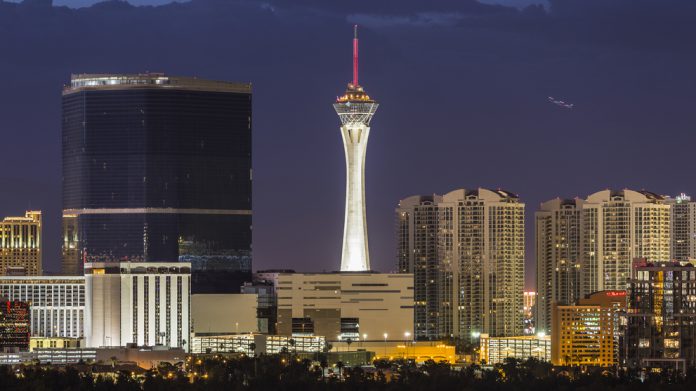 A record fourth quarter performance for Golden Entertainment, driven by group-wide increased visitation and customer spend, has seen the casino and entertainment operator surpass $1bn in revenue through a calendar year for the first time.
In addition to lauding a record annual EBITDA performance and a return to profit, the company suggests that "it could have better" had operations not become impacted by COVID restrictions, supply and labour shortages, and reduced visitation during the year.
GDE's Q4 saw revenue increase 37 per cent to $282m (2020: $205.6m), with net loss recovering from 2020's $18.5m to record a profit of $19.1m, as adjusted EBITDA closed up 72 per cent at $67.8m (2020: 39.4m).
For the year, revenue increased 58 per cent to make its maiden appearance above the $1bn mark at $1.096bn (2020: $694.2m), with net profit at $161.7m from a loss of $136.6m one year earlier, as adjusted EBITDA finished up at $291.7m, up 165 per cent from $110.3m year-on-year.
A 60.7 per cent uptick across the group's gaming segment drove a large portion of these increases after closing 2020 at $766.3m (2020: $476.75m), with food and beverage up 49.7 per cent to $167.81m (2020: $112m), with rooms rising 53.7 per cent to $109.8m (2020: $71.41m).
On a geographical basis, GDE's Nevada casino resorts, comprising The Strat, Casino & SkyPod, Aquarius Casino Resort, Edgewater Hotel & Casino Resort, and Colorado Belle Hotel & Casino Resort, secured a revenue increase of 55.5 per cent to $389.7m (2020: $250.6m) with adjusted EBITDA surging to $149.1m (2020: $57.5m).
Nevada locals, which includes Arizona Charlie's Boulder, Arizona Charlie's Decatur, Gold Town Casino, Lakeside Casino & RV Park and Pahrump Nugget Hotel Casino, saw revenue and adjusted EBITDA for the year increase 55.5 per cent and 75.4 per cent to $159.9m (2020: $113m) and $80m (2020: $45.6m), respectively.
Elsewhere, revenue for the year at Maryland's Rocky Gap Casino Resort secured a 51.1 per cent uptick to $78.2m (2020: $51.6m), with earnings up 76.8 per cent to $26.7m (2020: $15.1m).
The distributed gaming segment, made up of operations in Nevada and Montana as well as branded taverns in the former, generated increases across both metrics to close at $467.6m (2020: $278.3m) and $87.3m (2020: $27m).
Blake Sartini, Chair and CEO of Golden Entertainment, commented: "Our strong fourth quarter results concluded a record year for Golden, as we successfully navigated challenges to our operations throughout 2021. 
"The improved performance across our diverse operations drove our total annual revenue to over $1bn for the first time in history with full year Adjusted EBITDA growing to $292m, almost 60 per cent higher than full year 2019. 
"For 2022, we are focused on maximising our operating performance and cash flow which will position the company to refinance its existing indebtedness and accelerate returning capital to shareholders."