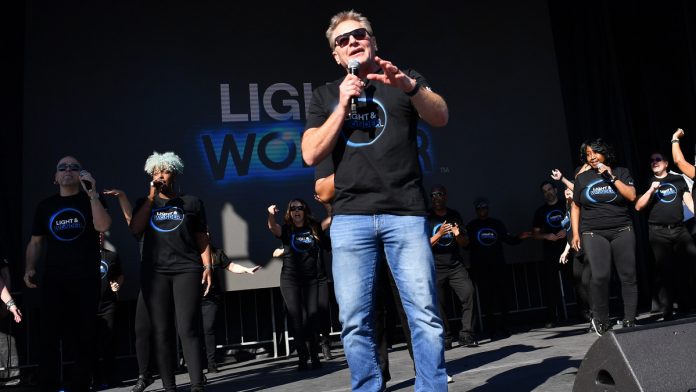 Scientific Games has pulled back the curtain on the latest stage of the group's ongoing transformation, which, in the culmination of "a year-long strategic process," will see the group become Light & Wonder.
This, the group says, has been done with "singular focus to be the leading cross-platform global game company", accelerating efforts to de-lever and invest for sustainable growth.
The Light & Wonder revamp represents the latest in a series of strategic moves undertaken by the group, with its lottery divestiture, providing approximately $5bn in net cash proceeds, expected to close during this month, followed by the offload of its sports betting business during the year's second quarter.
The company will operate under an assumed name until a legal name change is complete in spring 2022. At that time, it intends to start trading under a new stock ticker it has reserved, LNW.
The transformation is said to be born out of a "strategic vision and input from key stakeholders," as well as reflecting an enhanced focus on content creation, hardware and systems that connect iconic titles across any place or channel.
"We are thrilled to introduce the world to Light & Wonder, a company that will build great games and franchises that offer players a seamless experience across platforms," commented Barry Cottle, Light & Wonder Chief Executive Officer. 
"Our powerful new strategy required a powerful new identity to distinguish us and our unique offerings and capabilities. Our new name and identity are born from our winning strategy to be the leading cross platform game company, and will inspire our people to make great products for our players."
Adding: "We already have a world-class team powered by the brightest game creators in the business and in transforming into a growth company who invests in our people and products, we will serve our players even better wherever and whenever they play."
This comes as the firm disclosed a "strong performance" during the past year's final quarter, which it adds capped off "an outstanding year" for the group.
Q4 revenue increased 21 per cent to $580m (2020: $480m), driven by continued momentum across land-based gaming, a 112 per cent uptick across US igaming year-on-year, and a highest quarter from SciPlay.
Net income from continuing operations swung to $62m from a net loss of $143m, with adjusted EBITDA up 67 per cent to $216m (2020: $129m) due to double-digit growth in gaming and igaming.
For the year, revenue increased 27 per cent to $2.15bn (2020: $1.69bn), which is said to be primarily driven by North America gaming operations as well as the continued recovery of the market.
Furthermore, record revenue was achieved across its igaming division due to a "strong" US performance, with SciPlay hitting a record performance for the 12 months. Gaming revenue also benefited from $44m due to UK FOBT recovery.
Net income stood at $24m compared to a loss of $801m through 2020, with the period year significantly impacted by COVID-19 disruptions, as AEBITDA closed at $793m, up 112 per cent from $374m.
Jamie Odell, Executive Chair, stated: "From the outset we recognised the enormous opportunity to drive increased shareholder value through restructuring the balance sheet, redefining the portfolio and becoming a sustainable growth company. 
"We are already seeing the early stages of the strategy successfully executed, and with the announced divestitures the company will immediately shift from a debt to an equity story and achieve gearing significantly below the levels we underwrote in our investment thesis.
"We couldn't be happier with the way the entire team have executed on the transformation strategy, and our initial expectations are already being exceeded."