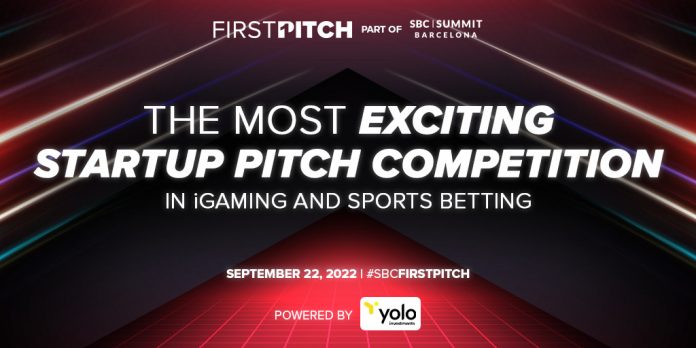 Six start-ups operating in the sports betting and the online casino gaming industries will participate in the inaugural First Pitch to be held at SBC Summit Barcelona, powered by Yolo Investments – a company focused on bringing next-level innovation to the worlds of igaming, fintech and blockchain.
The First Pitch competition, sponsored by Yolo Investments and 7scale, which aims to fuel the growth and success of start-ups, forms part of the wider SBC Summit Barcelona event. It intends to bring together some of the most exciting global start-ups within the industry to compete for a chance to win an exclusive prize package valued at over €50,000.
Rasmus Sojmark, SBC CEO & Founder, said: "SBC is happy to provide the platform for the industry start-ups to showcase their business and pitch their product in front of an expert judging panel.
"We have created an awesome prize package in collaboration with Yolo Investments to help the winner set themselves apart from the competition. This industry can be unforgiving, so the First Pitch is a great opportunity for the participants to get on their feet."
Hosting duties will be handled by Anton Kaszubowski, Managing Director of SBC Advisory Partners, who will be joined by a judging panel that boasts expertise in venture capital and investments and which will choose the finalists and ultimately the winner. The panel comprises:
Pontus Sjögren (Commercial Director and Partner, Yolo Investments).
Jake Stagno Navarra (COO, Red Rhino).
Sandford Loudon (Partner, Oakvale Capital).
Tom Waterhouse (Chief Investment Officer, Waterhouse VC).
Alex Chalmers (Managing Partner, Stadia Ventures).
Sjögren added: "Yolo Investments is proud to power the inaugural SBC First Pitch in Barcelona. I haven't seen a more exciting start-up culture in the gaming industry during the twenty years I've worked in it.
"Yolo Investments is already helping to guide some of the fastest-growing businesses in the sector, and nothing excites us more than helping the next generation of game-changing innovators.
"We've always followed Wayne Gretzky's advice: 'skate to where the puck is going, not where it's been.' Working closely with new igaming start-ups is the perfect way to do just that."
Navarra commented on his role as a judge: "As much as this competition is an exciting opportunity for the startups, the SBC First Pitch is also a rewarding experience for me personally.
"Start-ups and innovation go hand in hand, and I am thrilled to be part of the judging panel that will boost the morale of the winning start-up and give them the chance to grow and further develop their product."
Entrant companies must fulfil certain eligibility requirements, as outlined below:
Have been founded no earlier than 2019.
Be focused on the sports betting or online casino gaming industry.
Have raised no more than €4 million on outside financing.
Must have an MVP product to discuss and showcase.
Must be seeking a minimum investment of €500,000.
Have at least one representative from the company present at the competition on September 22.
The finalists will compete for a grand prize valued at more than €50,000, with the package designed to assist in growth and development plans. The winner will get:
A trip to Tallinn for two days of workshops with Yolo Investments valued at €25,000, with flights, hotel and other expenses paid.
An SBC Media promotional package valued at €11,500, including six months of advertising on SBC News or CasinoBeats, newsletter advertising, and two featured editorials promoting their business.
A 3x3m booth at the 2023 SBC Summit Barcelona valued at €15,000, including a turnkey stand, sponsorship mention, and four complimentary tickets.
The runner-up will also not leave empty-handed, as SBC has put together a promotional package valued at €11,500 to help their business excel in the industry.
SBC will stop accepting applications on Friday, July 22. To apply, visit this link.