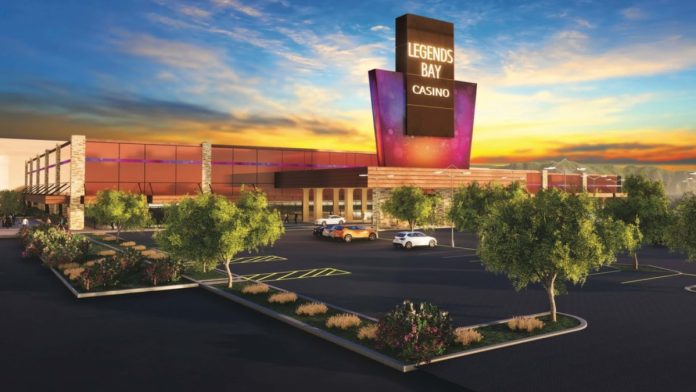 Nevada's Legends Bay Casino Resort is to officially swing open its doors to the public for the first time next month, with the first gaming facility built from the ground up in Reno-Sparks since 1995 to debut on August 30.
The 80,000 square foot casino and dining destination will welcome guests from the aforementioned date, before hosting a firework show and "sky-high extravaganza" three days later.
Boasting an ambition of "ushering in a new era in casino gaming for the region," the venue promises a "dynamic loyalty program" as well as a host of slot machines, video poker, live table games, live keno, Circa Sports sportsbook, high-limit room, and food and beverage outlets.
"It's an honour and a privilege for us to open the first new casino in northern Nevada in a very long time," explained Garry Goett, Chairman and CEO of Olympia Companies.
"We have been working tirelessly to bring this project to life for many years, and we are very excited to share it with the community. From our one of kind restaurants to the very first Circa Sports sportsbook, we have designed Legends Bay Casino to offer the best in class in gaming, dining, and sports."
Vowing to be a "players paradise," the casino floor of the facility will feature more than 650 slot and video poker machines, 10 live table games, five blackjack tables, craps, roulette, three card poker, pai gow poker, ultimate Texas hold'em, and live keno, in addition to the aforementioned high-limit offering and Circa sports betting option.
Furthermore, an LB Rewards loyalty program is said to be "at the heart of the new property's gaming philosophy" that looks to deliver "the most perks for your play".
Free membership entitles all players to earn and redeem points for free play and to receive exclusive flash play games right at their machine. The earning metric is based on the amount wagered.
"We are excited to welcome guests and deliver a gaming experience unlike any in the region," commented Court Cardinal, regional president of Olympia Gaming, the operator of Legends Bay Casino and Casino Fandango in Carson City.
"With gaming at the forefront of our vision here at Legends Bay, we are also excited to showcase our restaurants, including Duke's Steak House, LB Grill and the Food Truck Hall. Combined with our three signature casino bars, live entertainment and the best sportsbook in town, Legends Bay Casino truly has something for everyone."