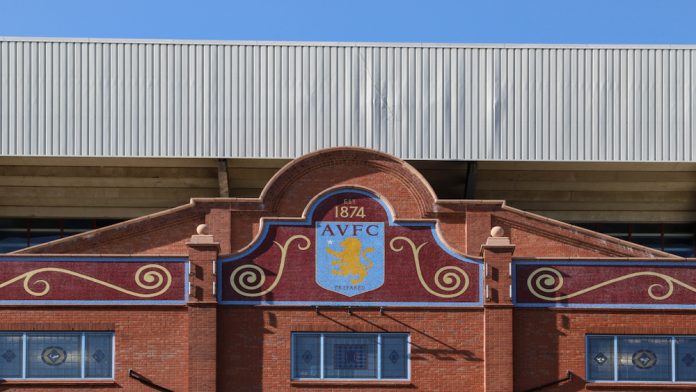 Aston Villa has entered into a multi-year partnership with BK8 that will see the online casino and sports betting brand become a principal and front of shirt partner of the Premier League outfit.
The three-year deal will feature branding on the front of the club's three official shirts until the end of the 2025/26 season, when a voluntary withdrawal gambling sponsorships from the front of matchday shirts will enter into effect.
In addition, a number of advertising opportunities across Villa Park assets are also included as part of the deal. These will be given to charitable organisation to display promotional messaging throughout the course of the coming season.
A number of brand activations will also be undertaken by BK8, which it is hoped will showcase a commitment to several local charitable initiatives in and around the Birmingham area.
"We are really delighted to be able to announce our support for local charities as part of our exciting new partnership with Aston Villa," Michael Gatt, BK8 EMEA Managing Director, said of the partnership.
"Being able to give something back to the supporters for their dedication is a hugely significant part of the reason we want to be involved with a prestigious institution, which is what Aston Villa Football Club are.
"As a brand working in football for the last few years, we have committed to working closely with our partners' local community initiatives and ensure we continue our commitment to delivering on our ambitions in this area.
"Over the next three years of this deal we will work tirelessly to make an impact in this area with a number of programmes across the region that engage with Villa supporters locally but also on a global scale."
Furthermore, Aston Villa, which last year teamed-up with crypto casino and sportsbook Duelbits, will release its third kit later this summer, which will see also BK8 make a contribution per adult shirt sold to a local charity.
An Aston Villa spokesperson said: "Through this partnership with BK8 we look forward to exciting collaborations together that will help to grow both brands, particularly within Southeast Asia."
BK8 are no stranger to sporting sponsorships, with La Liga, Huddersfield Town and John Terry among the operator's previous collaborations.
However, a June 2021 principal partnership with Norwich City was terminated just three days after being disclosed after The Canaries cited negative feedback received from supporters and partners over the gambling company's sexualised marketing
At the time, the Carrow Road stadium-based side acknowledged that it had "anticipated some negative responses" to the announcement, adding that "on this occasion, we got it wrong" and that for "any offence caused, the club apologises".
This, in turn, saw BK8 vow to "listen to the voices of the fans in the communities we serve and recognise when we are wrong" when entering similar such partnerships.
The agreement with BK8 has been met with support unrest on social media, with the Aston Villa Supporter's Trust previously urging the club to ditch the sponsorship deal when an agreement was mooted earlier in the year.