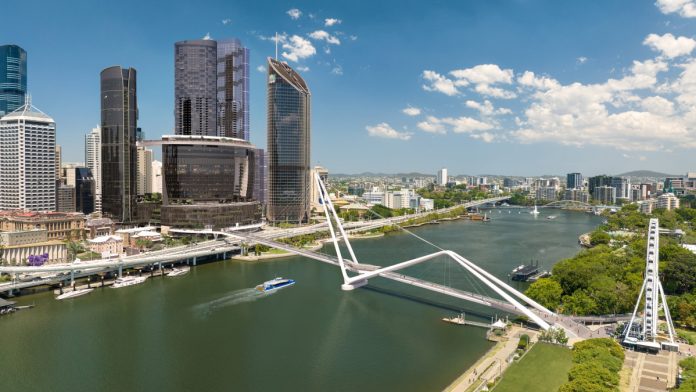 Star Entertainment Group's Queen's Wharf Brisbane is poised to become "a tourist magnet", proclaimed Steven Miles, Queensland's Acting Premier, amid the roll-out of a "double milestone" in the development of the multi-faceted facility.
This has seen the third and final section of the venue's Sky Deck, hailed as the "centrepiece of the world-class Queen's Wharf Brisbane development" by Miles, be successfully moved into place. This also tops out the five star, 340 room Star Grand Hotel.
Following a recent delay to completion being announced by the group, Kevin Dodt, Chief Operating Officer of The Star Brisbane, has labelled this as a "defining moment for the transformational Brisbane project".
The open-air rooftop 250m long crescent shaped Sky Deck, which the group further praised as a first for the city at the centrepiece of the A$3.6bn project, sits 100m above the Brisbane River.
This will be open 365 days a year for up to 1,500 people, and features a signature restaurant, all day casual dining, bar and events space, as well as a glass floor viewing platform.
"This is a special and long anticipated moment for Queen's Wharf and The Star Brisbane but more widely it is a game changer for Brisbane and Queensland tourism," Dodt explained.
"This will become one of the city's most recognisable skyscapes elevating Brisbane's already growing international reputation as a must-visit destination ahead of the 2032 Olympic and Paralympic Games.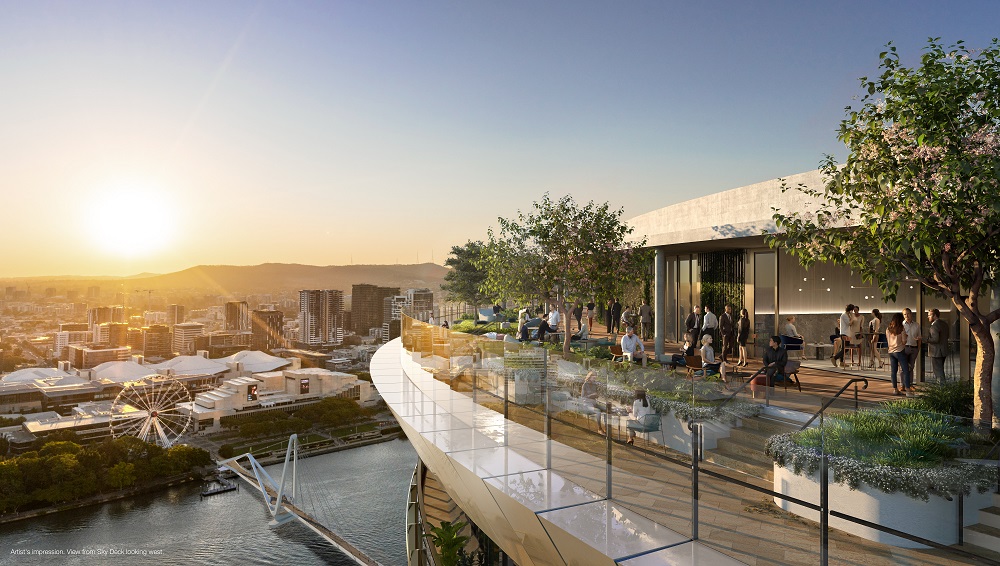 "Just as importantly, Sky Deck will be for the people of Brisbane as a vibrant public space to enjoy day and night, whether for important occasions, a casual catch up or just to take in the views.
"We are well underway with the internal fit out of The Star Grand hotel, which will offer direct access to one of the city's largest ballrooms and other new, exciting entertainment, dining and tourism spaces as part of the integrated resort.
"Our city and Queen's Wharf was featured in TIME as one of the 100 world's greatest places of 2023, alongside the pyramids of Egypt and Barcelona, so The Star is thrilled to be further focussing the spotlight on Brisbane and our great state."
The integrated resort, work on which commenced in mid-2019 and is now expected to open in April 2024, will include four towers and house five and six star premium hotel brands, as well as a casino that is promised to include "world class gaming facilities".
Furthermore, luxury retail, restaurants and bars will be fully accessible to the public, with a residential tower to comprise recreation facilities and a pool deck for residents.
The A$3.6bn project is being delivered by Destination Brisbane Consortium, a joint venture led by Star and its Hong Kong-based partners, Chow Tai Fook Enterprises and Far East Consortium. 
It is expected that 1.4 million additional tourists will visit Brisbane each year when the development commences a staged opening that was initially expected to begin in late 2023.
"The Sky Deck is poised to become a tourist magnet as the centrepiece of the world-class Queen's Wharf Brisbane development, so to be here to mark this milestone is great," Miles commented.
"As we move closer toward the 2032 Olympic and Paralympic Games, all eyes will be on this city and its developments like this that will attract even more people to town to get their picture on the glass floor viewing platform, to visit a restored heritage building or have dinner overlooking Brisbane.
"Seeing the finished Sky Deck is extra special, as the completed deck is made from Australian steel, manufactured just up the road at Beenleigh.
"The massive Queen's Wharf Brisbane project is delivering nearly 2,000 jobs during peak construction and 8,000 jobs in total including through the supply chain and hospitality once it's open."