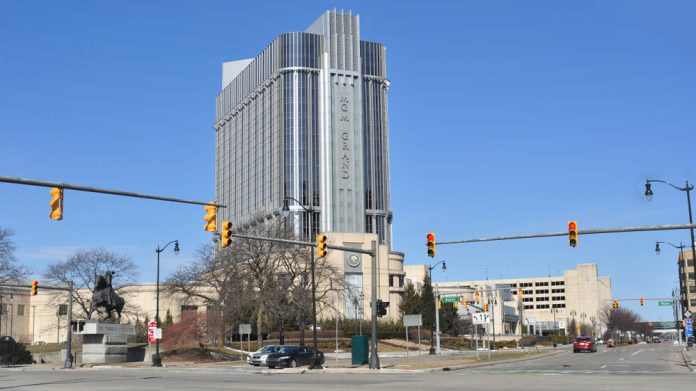 Detroit's three casinos have reported revenue of $101.5m through June, which represents a slight downfall from May's $105.6m but a year-on-year uplift from the $98.6m reported through the same time frame in 2022.
The three gaming establishments, each located in Michigan, saw table games and slots generate $101.9m, with sports betting reporting a negative $395,606.
This, the Michigan Gaming Control Board said, was "in large part" due to a win of $972,000 at MotorCity Casino midway through the month.
June's table and slots revenue increased 3.8 per cent when compared to June's 2022 $98.2m, but slid 2.7 per cent month-on-month from $104.7m.
Through the current year to the period ending June 30, revenue from table games and slots are almost one percentage point ahead when contrasted to the same period last year.
The venues maintained their usual places in the standings, with MGM Grand Detroit on top with revenue of $47m, however, this is down 2.7 per cent year-on-year from $48.34m. A market share of 46 per cent was held by the property.
MotorCity Casino came in next with a three per cent revenue drop to $32.5m (2022: $33.51m) to secure a market share of 32 per cent.
Hollywood Casino at Greektown, the only one of the three to secure a revenue uptick YoY once again, rose 36.8 per cent to $22.4m (2022: $16.35m) for a 22 per cent slice.
During the month, the three Detroit casinos paid $8.3m in gaming taxes to the state of Michigan, compared with $8m for the same month last year. The trio also submitted $12.1m in wagering taxes and development agreement payments to the city of Detroit.
Elsewhere, the regulator reported that retail sports betting qualified adjusted gross receipts were down by £1.3m and $844,308 when compared with May 2023 and June 2022. From a handle of $8.1m, total gross receipts yielded a negative $378,641.
June QAGR per casino saw Hollywood Casino at Greektown lead the way with $283,009 (2022: $305,023.), ahead of MGM's $30,010 (2022: -$22,251) and, as previously alluded to, MotoCity's negative $708,625 (2022: $165,931).
The trio paid $11,832 (2022: $17,802) in taxes to the state, and reported submitting $14,462 (2022: $21,758) in taxes to the city of Detroit based on retail sports betting revenue.
During June, fantasy contest operators reported total adjusted revenues of $1.9m (2022: $1.3m) and paid taxes of $572,626 (2022: $112,964).
For the first quarter, fantasy contest operators reported $10.8m in aggregate fantasy contest adjusted revenues and paid $903,369 in taxes.