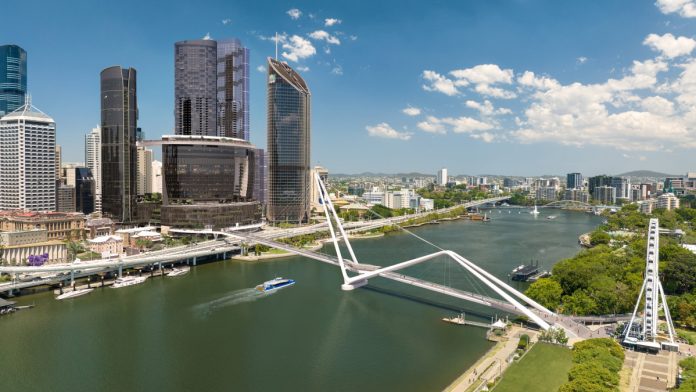 A dispute regarding Star Entertainment's much delayed A$3.6bn Queen's Wharf Brisbane development has escalated after a pair of claims were filed in Queensland's Supreme Court.
After it was revealed that the casino and entertainment operator had filed a claim against the group and its Destination Brisbane Consortium partners, Star revealed that it has also issued a counterclaim.
The Brisbane headquartered firm, alongside its Chow Tai Fook Enterprises and Far East Consortium partners, revealed that it has been served by the project builder regarding claims of additional costs, extensions of time and damages.
However, Star, which revealed a 12.2 per cent increase in operating expenses earlier in the year that was partly aligned to Queen's Wharf, is counterclaiming for "liquidated damages payable for delay in achieving key milestones under the contract".
"The Star understands that the claim seeks various declarations from the court regarding extensions of time, relevant milestone dates, liquidated damages, variations and certain other matters, including potential sums payable, in connection with the contract and seeks various orders in relation to those matters," a company statement read.
"The Star understands that DBC intends to defend the proceedings and The Star will keep the market informed upon filing of DBC's defence and any counter claims."
The integrated resort, work on which commenced in mid-2019 and is now expected to open in April 2024, will include four towers and house five and six star premium hotel brands, as well as a casino that is promised to include "world class gaming facilities".
Furthermore, luxury retail, restaurants and bars will be fully accessible to the public, with a residential tower to comprise recreation facilities and a pool deck for residents.
It is expected that 1.4 million additional tourists will visit Brisbane each year when the development commences a staged opening that was initially expected to begin in late 2023.
The A$3.6bn project is 50 per cent owned by the Star, with Chow Tai Fook Enterprises and Far East Consortium each taking a 25 per cent slice.
Earlier in the year, Star CEO Robbie Cooke echoed previous statements that wide infrastructure pressure being felt across the county has had a knock on effect at Queen's Wharf. A previous escalation in costs was also aligned to heightening construction material costs, labour shortages and supply chain challenges.
"The revised opening date follows careful consideration of current progress by our builder," he commented.
Furthermore, the company also reiterated previous guidance ahead of the publication of its FY23 financial results which has been delayed by one week to Tuesday 29 August.
This, it was said, has been done to finalise the group's accounts, specifically the conclusion of an impairment process that will include consideration of the recent New South Wales casino duty rates announcement. 
EBITDA is still expected to fall between A$280m-A$310m, however, this excludes provisions for fines, costs associated with the ongoing regulatory reviews (legal, consultant and other costs) and any one-off costs associated with cost initiatives, "all of which will be treated as significant items".
Earlier in the month, Star added to a lengthy list of financial penalties after being found guilty of 11 offences and being ordered to pay a A$140,000 sanction.
This builds upon previous action taken against the group that has seen the company be found unsuitable to hold a casino licence in New South Wales and Queensland.
The company was subsequently hit with a pair of A$100m penalty packages as well as further remediation orders.
The company is also the subject of enforcement action from Australia's financial watchdog AUSTRAC, and currently counts four class action lawsuits being levelled against the group.
Speaking to local media, a spokesperson said of this latest financial sanction: "We are absolutely focused on improving and returning to suitability in Queensland and NSW, with the goal of earning back the trust of our regulators, governments, shareholders, team members, guests and community."