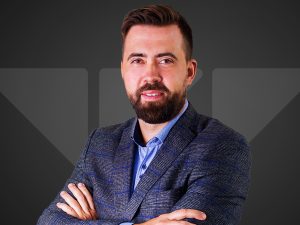 Wazdan is preparing to shake up the concept of progressive jackpots. Jackpot Rain, its latest creation, will have its premiere at Wazdan's booth CG90 during the SBC Summit Barcelona.
We spoke to Andrzej Hyla, Chief Commercial Officer at Wazdan, about how the provider continues to enhance gameplay with heightened thrills, intensifying the excitement of grand wins.
CasinoBeats: Great to talk to you, Andrzej! First of all, what is Jackpot Rain and how does it work?
AH: Likewise! Jackpot Rain is a unique progressive jackpot promo tool, which will be integrated into all Wazdan games, current and future. It's the fruit of many years spent working on engaging games and promotional tools while analysing the needs of operators and players. The experience gained while creating our Cash Drop and the award-winning Mystery Drop tools was poured into the development process that culminated in Jackpot Rain.
This new feature adds a progressive jackpot system to the gameplay. Each spin done by the players increases the progressive prize pool, which is represented by an in-game bar. Once Jackpot Rain is won, players can spin a wheel of fortune (which resembles an umbrella) for the chance to summon a true rain of jackpots, including the top Grand Jackpot prize.
This is a unique solution that we are introducing to the market with the aim of bringing player engagement to new heights. The option to enable it on any game for a specific period of time gives casino operators the freedom of choice and an additional incentive for players. When combined with our top-performing games, such as the 9 Coins™ series, operators will be able to increase their results significantly.
CasinoBeats: When are you planning to introduce Jackpot Rain™?
AH: Operators will be able to try out this brand-new promotional tool during the SBC Summit Barcelona between 19th and 21st September. We're inviting all attendees to come to our stand CG90 and experience the official launch of Jackpot Rain first hand.
Guests will be able to not only see this feature in action but also participate in Wazdan's tournament, during which – just like in Jackpot Rain – they'll be able to spin an umbrella for the chance to win amazing prizes. Anyone interested in getting involved can register their participation in advance. Pre-registered participants can look forward to extra perks during the tournament, too!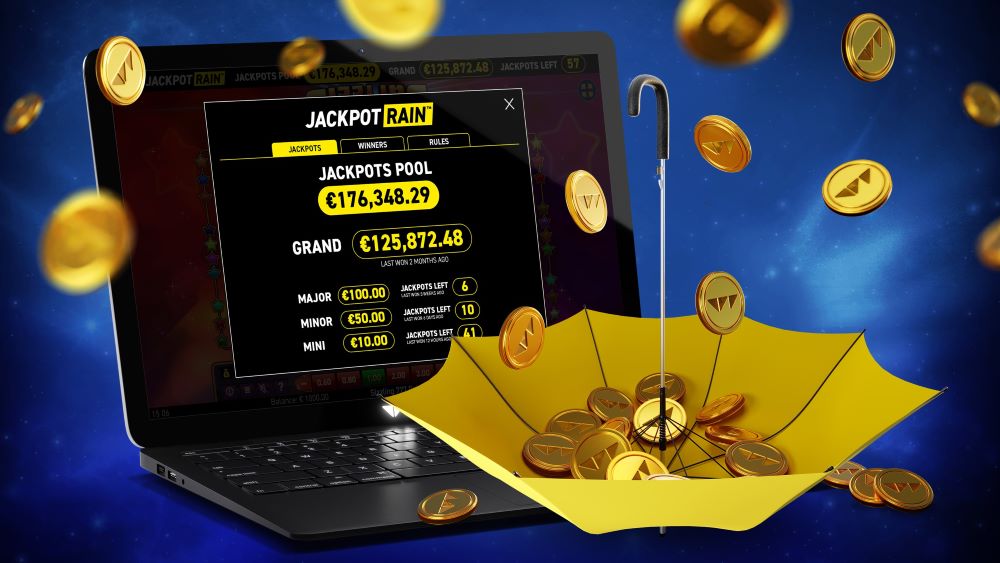 CasinoBeats: What benefits can operators expect by using Jackpot Rain?
AH: Using experience gained while developing Mystery Drop and other promotional tools, Jackpot Rain has been crafted in order to give operators a completely new instrument that drives user engagement. Progressive jackpots are extremely popular amongst players and, by themselves, work great to increase metrics.
However, instead of offering selected slots with progressive jackpots, our solution allows operators to turn on the feature in any of our titles, allowing them to further boost the results of the best-performing games. Player excitement and activity will reach new heights, as they will be able to spin the wheel of fortune to win additional prizes on top of their standard wins in all of their favourite titles. This makes it a perfect cross-selling tool, creating an incentive for players to play more and stay longer at a casino.
CasinoBeats: Jackpot Rain™ joins an already robust family of Wazdan's promotional tools. What are some of its other members?
AH: Our ever-expanding promo suite includes such highly engaging tools as Mystery Drop, Prize Drop, Cash Drop, Free Rounds, and Wallet Free Spins.
Mystery Drop, which was named the Game Feature of the Year at this year's CasinoBeats Game Developer Awards, is a dynamic gamification tool that randomly awards players with prizes during their game sessions. Players can pick one of nine Mystery Boxes, which house various cash prizes that can be awarded instantly on top of any other wins.
The opportunity to choose the prize works great in driving engagement. This is an extension of Wazdan's approach to game design, where player agency is put first. This is also reflected in our advanced customisation suite – Freedom of Choice, a set of features, including the likes of Volatility Levels, Chance Level, or Buy Feature, which allow players to tailor gameplay to their specific preferences.
Using the highly customisable Mystery Drop feature, Wazdan has been successfully running multiple network promotions in 2023, covering a total prize pool of almost €4,000,000. The latest set of promotions has been planned for the last quarter of 2023 and will include a collective prize pool of €2,500,000.
Both Prize Drop and Cash Drop operate similarly, also offering randomly awarded prizes to players during an active in-game session. The former can be set up to offer a selection of physical prizes, which can include merchandise, electronic devices, or even premium rewards like holiday packages or cars. On the other hand, Cash Drop can be used to reward players with instant cash prizes – that's on top of any normal winnings they may obtain during their gaming sessions. Data shows that this tool can increase a game's bet sum by over 360%, game rounds by over 260%, and unique active players by over 200%.
Free Rounds and Wallet Free Spins are undeniably an industry staple when it comes to promoting games. Wazdan's innovative solutions make awarding players with Free Spins easier and more secure than ever. Offered as an out-of-the-box solution, these features require no additional integration and can be activated hassle-free.
However, our creativity and imagination don't stop there and we're already working hard on new and exciting promotional tools that will be unveiled during ICE London 2024. There's still some time until that though, so in the meantime we invite everyone attending SBC Summit Barcelona to drop by our stand CG90.
Join us to experience the new Jackpot Rain™ promotional tool, give a spin on some of our latest games, including the Book of Faith™ slot, which we are really excited about, and participate in our tournament for a chance to win some fantastic prizes! We can't wait to see you there!