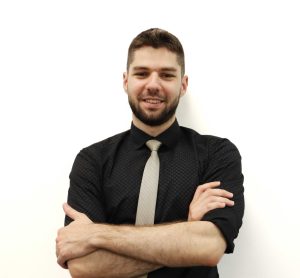 With untapped markets opening up, new companies entering the space and even the development of new products, this year has been one in which the igaming industry has undergone tremendous growth. Coincidentally, this year has also been filled with huge growth for Bad Hombre Gaming, as Head of Operations Christian Vuchev explained.
In a chat with CasinoBeats, Vuchev tells us about his journey into the igaming space and how he has used his experience within customer service to shape Bad Hombre Gaming's strategy so far.
He walks us through some of the biggest challenges that igaming companies have faced over the last year, before offering his prediction on what trends we might see in 2024.
CasinoBeats: Thanks for speaking with us, Christian! Can you begin by introducing yourself to our readers? How did you come to work at Bad Hombre Gaming?
CV: The pleasure is all mine! Of course, my journey in igaming began five years ago when I joined PokerStars as a customer service agent, the position I like to call a 'trampoline to success'. The experience I had accumulated for nearly three years in every vertical of the sector is still crucial to my personal development to this day.
I then took up heading the Customer Service Department of Bad Hombre Gaming back when it all started in 2021. A year later when our platform was launched I was already heading all of the operations.
CasinoBeats: This year has been a jam-packed one for the igaming industry – for you, what's been the biggest highlight so far?
CV: To me, the most amazing thing is how this industry is still finding a way to expand and grow after so many years. In 2023, most igaming events have recorded an all-time high number of exhibitors and attendees. Another thing is how the two worlds of igaming and cryptocurrencies have become even more intertwined throughout the year and I see this as a potential highlight of 2024 as well.
CasinoBeats: Can you give us an overview of how Bad Hombre Gaming has performed so far this year?
CV: Without a doubt, 2023 was a huge success for Bad Hombre Gaming. We have onboarded multiple partners, expanded our services and nearly doubled in headcount.
It is safe to say that the name Bad Hombre Gaming is out there and is establishing itself as a leading crypto casino platform. The highlight of the year is of course the launch of our Telegram Casino product and I would say it is the best on the market. The interest around it has been skyrocketing recently without any signs of slowing down.
CasinoBeats: What have been the biggest challenges that you have faced this year, and how has Bad Hombre Gaming navigated these hurdles?
CV: It is always challenging when you are offering an innovative set of services. It takes a lot of effort to battle the established norms and prove how a change may be for the best.
The way Bad Hombre Gaming is handling these hurdles is by providing a quality product that is proving to be a successful game changer. Businesses should start thinking about 'how do we keep on growing?' and we are giving the answer.
CasinoBeats: Going into 2024, what can we expect to see from Bad Hombre Gaming? What will be your biggest focus for the year?
CV: Bad Hombre Gaming is looking to extend its success into 2024. Our main focuses would be to keep on expanding and improving our services, further develop our Telegram Casino product, strengthen our partnerships and build new ones.
Probably the most exciting news for 2024 is that Bad Hombre Gaming will expand into offering fiat payments as well. For now I will leave you wondering about the details around it with a smile.
CasinoBeats: Can you tell us what you will be showcasing at the upcoming SiGMA Malta in November?
CV: We will use the opportunity to meet with our operators, do an overview of our partnership for 2023, and plan for the future. A lot of our team of Bad Hombres is attending SiGMA Malta in November, so if you haven't already booked a meeting, now is the time.