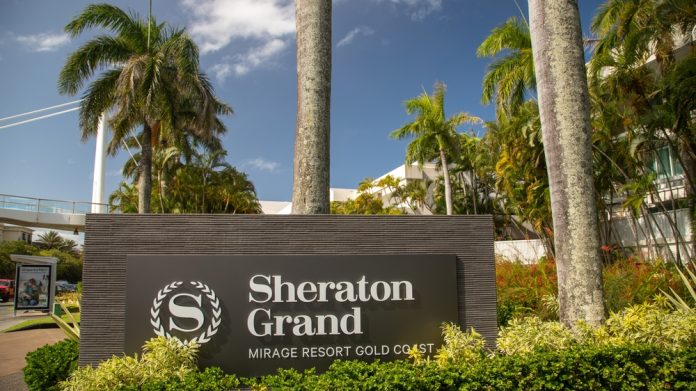 Star Entertainment Group has notified that the sale of Sheraton Grand Mirage Resort Gold Coast has been finalised, a little over four months after the potential sale was first touched upon.
This came as the Brisbane headquartered company said that it was experiencing a "significant and rapid deterioration" in operating conditions, primarily due to the impacts associated with a range of regulatory run-ins. 
The divestment, undertaken through its 50 per cent owned Australian Wattle Development, comprises a fee of A$192m. The purchaser is entities owned by the Karedis and Laundy families, which are known through the Australian liquor and hospitality industries.
Sheraton Grand Mirage Resort Gold Coast was officially sold on Friday 3 November, 2023, with the Star receiving in the region of A$60m in net proceeds from the sale.
Australian Wattle Development purchased the Sheraton Grand Mirage Resort Gold Coast in a A$140m deal alongside Hong Kong-based partners Chow Tai Fook Enterprises and Far East Consortium in January 2017.
Last month, the operator, which recently detailed a comprehensive refinancing and capital restructure initiative, vowed to learn the lessons from the past amid a proclamation that 2023 "will be remembered as a watershed year" for the company.
The comments were made by David Foster, Chair and Independent Non-Executive Director, in the operator's latest annual report, following a series of regulatory run-ins that have blighted the Australian casino industry.
In September 2021, the then Independent Liquor and Gaming Authority, now the NSW Independent Casino Commission, appointed Adam Bell SC to conduct a review of The Star.
The main goal was to assess its suitability to hold and be associated with a casino licence in the region, including compliance with its regulatory and legal obligations.
In September 2022, an unsuitability verdict was issued, with "many governance, risk management and cultural failings" reported as being discovered, with Star also found to have treated the state regulator "with disdain" and having delivered "deceptive" communications in the past.
This was followed by a similar ruling some time later within the group's home market of Queensland, with Star subsequently hit with a pair of A$100m penalty packages as well as a number of remediation orders.
Further regulatory issues have seen the operator become subject of enforcement action from Australia's financial watchdog AUSTRAC, and counting four class action lawsuits being levelled against the group.
Last month, Star revealed that it had swung to a huge A$2.43bn statutory net loss for the 12 months ending June 30, 2023, as the numerous challenges encountered across recent times continue to take their toll on the company.
This figure included A$2.82bn of significant items that comprise a non-cash impairment of The Star Sydney, The Star Gold Coast and Treasury (A$2.17bn), debt restructuring costs (A$54m) and redundancy costs (A$16m).
Furthermore, A$593m in ongoing regulatory and legal costs includes NICC and OLGR fines, AUSTRAC civil proceedings, unpaid NSW casino duty and costs associated with ongoing regulatory reviews.