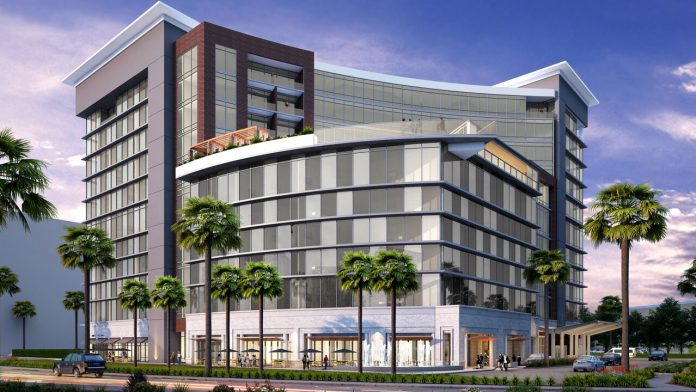 Las Vegas headquartered Caesars Entertainment has announced plans to debut its first non-gaming hotel in the United States, which is to be located in the Arizona city of Scottsdale.
Falling under the organisation's new Caesars Republic brand, the four star property is to be developed by HCW Development and operated by Aimbridge Hospitality, with Caesars licensing its brand, in addition to advising on design elements and integrating its total rewards loyalty network.
Stated to tap "into the unique pulse of each host city," Caesars stressed that no two Republic entity's are to be exactly alike, with "everything from the décor to the culinary offerings inspired by local traditions and taste-makers".
Mark Frissora, Caesars Entertainment president and chief executive officer, explained: "Caesars Republic Scottsdale represents the introduction of a new world-class brand, and further progress on our strategy to expand our non-gaming business into premier destinations.
"This project will be our first non-gaming asset in the United States and demonstrates the global strength of the Caesars brand.
"We look forward to partnering with HCW Development and Aimbridge Hospitality to create a world-class experience in one of the nation's most desirable communities."
The 11 story glass structure is to feature 266 rooms, whilst also housing a 7,000-square foot column-free ballroom with 34-foot sliding glass doors, in addition to encompassing Scottsdale's only rooftop pool and bar which will come complete with "breathtaking views of Camelback Mountain".
"We are very excited to work alongside our new partners to introduce the Caesars Republic brand to the world," commented Richard Huffman, chief executive officer and president of HCW Development.
"Scottsdale is a vibrant community and we are confident that this high-end facility will provide a truly unique and dynamic experience to both locals and guests travelling from afar."
Robert Burg, Aimbridge Hospitality president and chief operating officer, added: "We are honoured to partner with Caesars Entertainment, and add a hotel with the iconic Caesars brand to our management portfolio.
"We share Caesars' commitment to operating excellence and look forward to managing Caesars Republic Scottsdale."
This announcement follows the opening of Caesars' two beachfront luxury resorts and beach club on Meraas' Bluewaters Island in Dubai, with plans also unveiled to develop a non-gaming Caesars Palace resort along the coast of Puerto Los Cabos, Mexico.
Check out the below video announcing plans for the new non-gaming property.