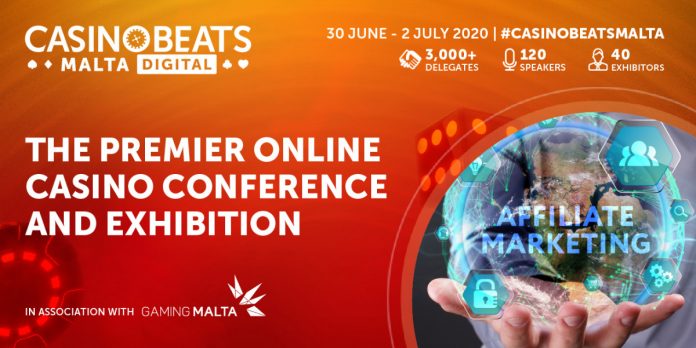 CasinoBeats Malta Digital is to reflect the crucial role that affiliates continue to play in the online casino industry by making the future of igaming affiliation one of the key themes of the agenda for the three-day virtual conference and exhibition.
The content will feature insights and ideas from some of the leading executives in the sector, while there will also be plenty of networking opportunities for affiliates and operator affiliate managers during the event, which takes place on 30 June – 2 July 2020.
Among the key sessions is the Affiliate Leaders Panel, sponsored by Intertops, which has a speaker line-up that includes Tobias Svensen (CEO, CasinoGrounds), Hamish Brown (VP casino, Catena Media), Jonathan Edelshaim (general manager, Natural Intelligence) and Marcos Oliveira (chief affiliate officer, Clever Advertising Group).
It will examine the challenges facing major igaming affiliates, the ways in which the changing regulatory climate is influencing how affiliates operate, and what opportunities are available to new entrants to the market. 
Another highlight is the Acquisition & Personalisation session, which will see a panel including Assaf Stieglitz (founder, Odds1x2.com) share their experiences of the most effective methods for the slots sector to acquire new players and optimise the lifetime value of customers. Panelists will also outline their thinking on how these techniques may evolve as the market continues to change.  
Delegates can also look forward to some practical advice during the Affiliates: Compliance Minefield session, as a panel that includes Ian Sims (founder, Rightlander) details how  igaming affiliates can stay simultaneously onside with advertising guidelines, operator policy and regulatory requirements. 
In addition to the marketing-focused sessions, there will be panels on other topics of interest to affiliates, such as developments in the Japanese and Swedish markets, and the long-term outlook for live casino, online poker and bingo.   
Away from the conference rooms, operator affiliate managers and delegates from affiliates will have lots of opportunities to connect during CasinoBeats Malta Digital. The event has a virtual networking lounge, a virtual bar and one-to-one chat functionality, along with a selection of themed networking hours designed to bring together stakeholders interested in specific market sectors. The schedule will include a dedicated affiliate session. 
Stewart Darkin, managing director of CasinoBeats, said: "We've chosen to make affiliate marketing a central theme for the event in recognition of the fact that igaming affiliates remain an important part of the online casino ecosystem. 
"The strategies affiliates use to achieve results for operators are constantly evolving, and delegates attending the conference sessions will discover plenty of new perspectives on the coming trends and long-term future of the sector. 
"The event will also provide a relaxed setting for operators to connect and talk business with both market-leading super affiliates and innovative new affiliates." 
CasinoBeats Malta Digital will see 3,000 industry delegates, including more than 1,200 representatives of major casino, slots and poker operators, gather for a five-track conference, interactive exhibition featuring 40 leading suppliers, and selection of virtual networking events. 
Find full details of CasinoBeats Malta Digital, including including information about how to register and discounts available on company group passes, at the event's official website: https://sbcevents.com/casinobeats-malta-digital/. 
To find out more about exhibiting or to discuss sponsorship opportunities, please contact: [email protected].