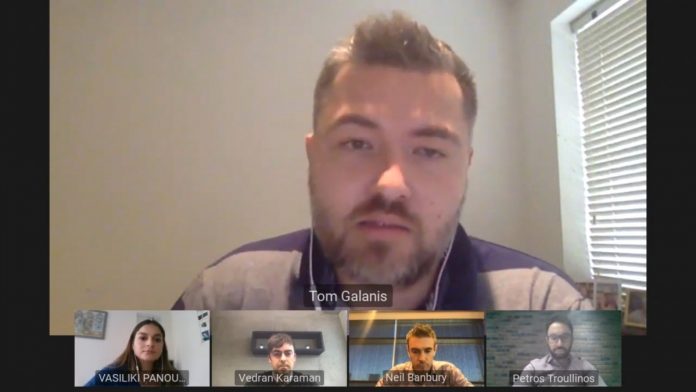 Speaking on the first day at the Betting on Sports Europe – Digital, Tom Galanis, managing director at TAG Media, emphasised that public trust within the online gambling industry is 'waning' with it under pressure to raise its standards in social responsibility.
Moderating the discussion panel entitled The Thin Line Between Marketing and Enticement, which was sponsored by Karamba, Galanis noted: "Public trust in the online gambling industry is very much waning, particularly in the UK market. The industry is under pressure to raise its standards in social responsibility with a particular focus on the very broad category of marketing.
"This industry has long since used value propositions focusing on bonus lead acquisitions and retention marketing campaigns, delivered predominantly by performance marketing channels and VIP loyalty programmes often towing the line of affected marketing with accusations of enticing customers to gamble." 
Joining Galanis on the panel was Vedran Karaman, global director of performance marketing at Superbet, Neil Banbury, general manager UK at Kindred Group, Petros Troullinos, head of marketing operations at Kaizen Gaming, and Vasiliki Panousi, manager of EU Affairs at EGBA.
Karaman highlighted the issues within Romania and Central Europe where he believes the industry is witnessing similar distrust within the online market: "When you look at how people react to the adverts, when people are contacting customer service and the comments on social media it's quite similar.
"Sweden is a good example of the newly regulated market which brought a huge negativity because you are now in people's private space… before the market was regulated you had adverts on different programmes and display placements… now that it's regulated you have adverts in their private feeds, in their Snapchats and their Facebook and when it appears there they are becoming upset and annoyed."
Switching focus to the UK market, Galanis noted: "My experience from living in the UK is that public trust has never been lower actually in online gambling and in the online gambling operators." 
Banbury echoed Galanis' view, stating: "I think it's a reflection of the fact that gambling has been part of a normal narrative in the UK for a long time.
"It's been a heavy advertiser after 9pm. From a casino perspective, generally every digital channel has been open and it's been something that as the market has grown and more firms have wanted to get involved in the UK they've seen it as an opportunity for growth. 
"It's led to more brands wanting to do more advertising and I think it's just generally got to a point where it's almost tipped over in terms of the public's conscious of it all.
"Whilst it remains highly engaged in activity there remains huge participation in online gambling. It's clearly something that people in the UK like to do. I think we've got to a point now that it's pretty clear that they don't necessarily like to see the amount of advertising.
"I often see here that there's something that needs to happen around the quantity of advertising that's happening, and there's been some steps in that direction with the whistle to whistle ban, but I think as well we need to try and address the quality of advertising as it's been very 'shouty' and it's been very 'ladish' for some brands.
"I think we need to move to something that's a little bit more sustainable, both in terms of the way the product is promoted but also customers don't want you shouting at them, so if you want to be successful in the marketing I think the tone needs to evolve a bit."
The panel then went on to discuss the new regulations being introduced in the Greek market with Troullinos stating the regulatory framework is 'strict' in terms of marketing techniques and communications.
"The time is excellent with the new regulation in the Greek market… Now we're moving from the interim stage to a fully transparent regulated and structural entertainment context that every serious company that is operating in Greece will benefit from." noted Troullinos. "The new regulation was much anticipated and this is something that we will welcome at this point."
_____________________
Betting on Sports Europe – Digital is the foremost conference for senior executives from European sports betting operators, providing a forum for high-level discussions that will help to shape the future of the industry.
The fully virtual event will bring together major players from markets across the continent on a single platform, where they will share best practice for tackling the industry's major challenges and ideas about emerging opportunities.
To register for your free ticket, click here