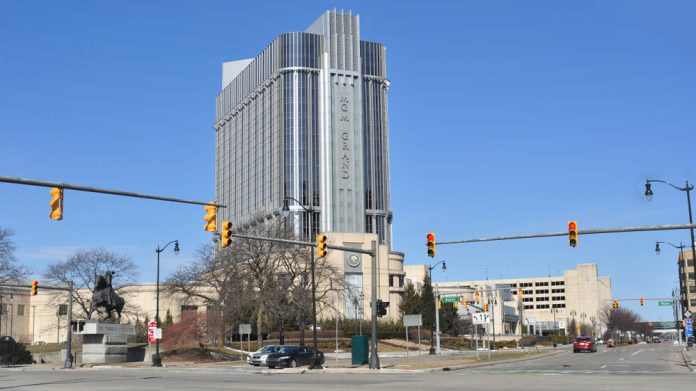 MGM Grand Detroit has continued its dominant position among the three Motor City casinos, after the Michigan Gaming Control Board published figures for the month of May, when the venues continued to operate at limited capacity due to COVID-19 health concerns. 
The three Detroit casinos of MGM Grand Detroit, MotorCity Casino, and Greektown Casino, reported $109.69m, a slight drop month-on-month from the $115.23m scored one month earlier.
Furthermore, table games and slots generated $107.94m in revenue, while retail sports betting produced $1.75m in revenue. May market shares saw MGM came out with 42 per cent, ahead of MotorCity's 36 per cent, and Greektown's 22 per cent.
The three Detroit casinos reported $125.8m in aggregate revenue from slots and table games during May 2019 while operating at full capacity. All three casinos were closed during May 2020 because of public health concerns.
Monthly gaming revenue earned by each casino was $46.15m, $38.19m, and $23.6m by MGM, MotorCity, and Greektown, respectively. During May, table games and slot revenue was up a fractional 0.5 percent when compared with April results.
During the month, the gaming properties paid $8.7m in gaming taxes to the state of Michigan, and submitted $12.8m in wagering taxes and development agreement payments to the city of Detroit.
Total sports betting handle came in at $20.19m, with gross receipts coming in at $1.76m. Retail sports betting qualified adjusted gross receipts by casino were MGM's $402,223, MotorCity's $709,796, and Greektown's $636,547
The casinos paid $66,096 in retail sports betting taxes to the state in May, and reported submitting $80,784 in retail sports betting taxes to the city.
Through May 31, aggregate retail sports betting qualified adjusted gross receipts in 2021 totalled $2.72m by MGM, $3.78m by MotorCity and $3.72m by Greektown.
Furthermore, the MGCB also detailed that fantasy content operators reported total adjusted revenues of $1.48m and paid $124,727 in taxes.
Through April 30, fantasy contest operators reported $5.7m in total aggregate fantasy contest adjusted revenues, and paid $480,199 in taxes this year.