Digital Gaming Corporation, Everi and White Hat Studios continue to chase down the US leading trifecta of Evolution, Light & Wonder and IGT, however, a warning of increased competition could significantly alter the landscape.
That is the belief of Rick Eckert, Managing Director of Slot Performance and Analytics at Eilers & Krejcik Gaming, who was speaking upon publication of the latest Eilers-Fantini monthly overview of the US igaming ecosystem.
Across the core gaming segments that each of the dominant three boasts distinct expertise, Eckert has suggested that impending competition could shift the tide somewhat over the coming months.
"For now these three will continue to lead the pack for online suppliers in the US market but as shown in our GGR trends of the OGPD report," he commented.
"Evolution and IGT have lost share in the past 12 months while LNW witnessed an increase in share for the previous six months but regressed by nearly two per cent in July.
"Each of these top suppliers also has unique threats to their share as well. Evolution should expect competition with live casino product from Playtech, IGT with the increased development of RNG table and video poker content from operator studios, and LNW with increased competition with slot content namely from DGC, Everi, and White Hat Studios as we also still patiently await Anaxi to make a big push."
The familiarity witnessed across previous months when looking at the overall top grossing games was restored through August, with Evolution's Live Dealer Roulette top three stalwart back into the bronze medal position after slipping to seventh during July.

IGT maintained top spot through its Blackjack title, with the online gambling group's Cash Eruption slot reclaiming its second placed finish.
Of the top 25 titles that are dominating the GGR charts, online slots maintain the lion's share with 18 games. Live casino, all courtesy of Evolution, has four entrants, while table games comprise a pair and video poker counts a sole entrant.
Remaining with the overall rankings, last month's slots number two in DGC's Gold Blitz reclaimed top spot after slipping to second.
Inspired Entertainment's Stacked Fire 7s fell one place, while Light & Wonder's Miss Midas climbed from number 1,193 to finish the month in third spot.
Eight unique suppliers were represented in the top 10 once again to maintain variety in the segment, with Light & Wonder, DGC, AGS, Evolution, IGT, Inspired, ReelPlay and Everi the studios in question.
In the new game rankings, Gold Blitz is accompanied by fellow DGC slot in Squealin Riches, which sits in third, as well as Everi's Gold Standard Jackpots at the top of three.
White Hat Studios ranks three games in the top 10 with Almighty Buffalo Megaways Jackpot Royale, The Goonies Jackpot Royale, and Peaky Blinders, while DGC counts six of the top 25.
The new overall ranks are identical to the new slot ranks for another consecutive month, with each of the top 25 representing titles that fall in the bracket of the latter list.

Quizzed on the maintained strength posed by DGC, Eckert responded: "DGC continues to place strong new themes month to month on our top new slot ranks but many fail to 'stick' and move to our top slot ranks without the new filter, this filter segments to only games released in the past 180 days.
"The average performance between overall and new slot rankings for the top 25 in each respective group is nearly halved when looking at only new slots, 8.5x vs 4.5x.
"An opportunity for DGC remains getting placed at more sites, while they have shown an increase in sites tracked in our coverage from 13 to 19 sites in the past 12 months that still only places them at 2/3 and their top performing games only at ¼ of those sites tracked."
Looking specifically at the supplier mix, Evolution unsurprisingly continues to lead the way. Through August the group occupied 22.4 per cent (July: 22.7 per cent) of GGR, with 84.8 per cent (July: 85.5 per cent) of its gaming suite represented as online slots.
IGT was next in line once again regarding the supplier percentage of GGR with 19.1 per cent (June: 18.1 per cent), with 85.2 per cent (July: 85.4 per cent) of its portfolio being slots.
L&W remained third, with the group's percentage of GGR standing at 15 per cent, down from 16.4 per cent month-on-month. 90.6 per cent (June: 90.3 per cent) of the group's gaming suite are slots.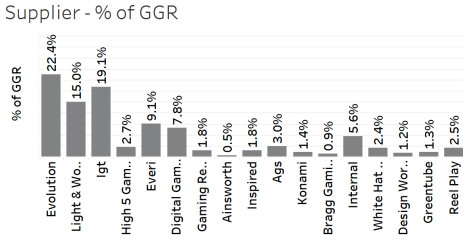 Slots remained the dominant segment when looking at the total games tracked with a total percentage of 90.9 (July: 91.3 per cent), ahead of table games' 4.4 per cent (July: 4.1 per cent).
Live casino was next in line with two per cent (July: 1.8 per cent), ahead of video poker's 1.2 per cent (July: 1.2 per cent), instant win's 1.1 per cent (July: 1.2 per cent) and 0.2 per cent shared by lottery and bingo/keno as each remain consistent month-on-month.
Mobile maintains its frontrunning status with the highest percentage of theo win generated at 69.9 per cent (July: 70.2 per cent) and leads across most segments, with desktop, via a theo win of 28.9 per cent (July: 28.6 per cent), soaring ahead in virtual sports. Tablet continues to bring up the rear after remaining consistent with 1.2 per cent.
Addressing the dominance of slots, Eckert spoke of if the gap between the segment and the rest is simply going to grow and grow moving forward.
"The game category revenue mix for online casinos in the US market is consistent with land-based casinos with slots accounting for roughly 80 per cent (78.5 per cent online vs 82.5 per cent land-based), which would lead me to believe there will not be much movement here," he said.
This latest analysis examines data from Michigan, West Virginia, Pennsylvania, New Jersey and Connecticut across 33 online casino sites, tracking 47,507 games to represent 64 per cent of the market.
If interested in learning more, subscribing, or participating in the Eilers-Fantini Online Game Performance Database reach out to Rick Eckert at [email protected].