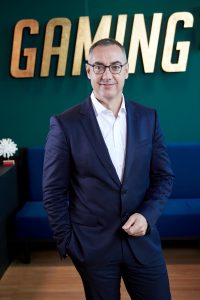 Belgium has always been a central part of the GAMING1 story, David Carrion told CasinoBeats last week, but this isn't to say that the company isn't eyeing up new opportunities in other markets.
With a presence in multiple markets across the world, two such jurisdictions that have found themselves on GAMING1's expansion agenda are the Netherlands and France.
You're probably wondering, why these two markets in particular?
For Carrion, the Chief Operating Officer Interactive at GAMING1, the Netherlands and France are two markets that hold enormous growth potential. However, this is all dependent on pending regulatory changes that are expected to come into play over the next few years.
Going Dutch
We've all seen the announcements of companies entering the Dutch market since the country regulated gambling back in October 2021. But the market has quickly become synonymous with strict regulations and high levels of competition among operators.
The strict regulations, according to Carrion, aren't necessarily a bad thing. Instead, he believes that unlike other European markets, the regulations in the Netherlands are very "clear cut" and help create an environment that is conducive to competition – something he believes will result in a better experience for players.
He began: "I think the Netherlands is going to be a majorly important market in the next few years. If you look at what's happening in Europe, the Dutch market brings with it significant growth opportunities for companies like ours.
"The German market is very complicated in terms of regulations, there's been multiple attempts to regulate the market, but none have yet come to fruition. Finland, Norway and Sweden are all markets where there are opportunities, but it isn't quite as clear cut as other European gaming jurisdictions.
"But the Dutch market is very clear. You can enter the market and compete, as long as you fulfil the requirements. This may be a bold prediction, but I think it's going to be a €3bn market in the next two or three years – it's already passed the €1bn market so it's growing rapidly."
One particular challenge that Carrion drew attention to was the ability for operators to build brand awareness since the gambling advertising ban came into force.
As it stands, TOTO currently has a dominant position in the Dutch market. Carrion praised TOTO's marketing efforts, however he noted that it is quite difficult for smaller operators to compete against a brand that has long been a household name in the Netherlands.
He emphasised that TOTO's omnipresence doesn't mean that operators should not try to compete. Instead, he highlighted that this provides the perfect opportunity for operators to get creative about their branding.
"Toto has had the opportunity to build brand awareness for many years now, something that new entrants should really take note of, especially since the advertising ban came into force. It will severely limit how these brands reach out to new customers; operators will just have to be more creative on how they approach advertising.
"If you have a good product and you get clever about branding, you can compete and achieve growth. The Dutch market will be incredibly interesting going forward."
"Despite the tough, but not prohibitive regulatory landscape, GAMING1's two flagship brands, Circus and Casino 777, seem to have thrived in the Dutch market.
Carrion explained that between the two brands, Circus appears to have gained a slight competitive advantage over 777, despite the latter receiving a licence first. There were two main reasons for this.
Carrion added: "Unlike 777, which is primarily casino focused, Circus offers both sports betting and casino, giving this brand a wider demographic of players to tap into.
"Circus managed to get a strong foothold in the Dutch market through celebrity campaigns, TV advertising and traditional marketing strategies upon launch.
"The 777 brand came a bit later, meaning we couldn't quite leverage as much of that marketing as we had with Circus, but that doesn't mean to say the brand isn't performing well. Both brands are doing very well."
To make the most of the Dutch market, Carrion made reference to the age-old proverb, "the early bird catches the worm". Admittedly, brands can't turn back time to ensure that they're an early entrant into the market, but he did draw attention to some of the lessons that newer brands can learn from the powerhouses in the Netherlands, such as brand awareness, compliance and player protection.
The added competition in the Dutch market, whilst healthy for the end player, could make it more difficult for GAMING1 to replicate the successes that it's had in its home market of Belgium. But Carrion expressed his belief that this market still presents numerous growth opportunities for GAMING1.
"There have been a few new entrants in the Netherlands. It's much more competitive, so it will be more difficult to emulate that market share that we have in Belgium, but we're very happy with how everything's going so far. We just need to continue running our race and keep growing.
"Internally, we determined that the Netherlands would be a growth market for us. So, we need to continue refining our position, developing our product and building on our proposition."
Une nouvelle opportunité
The current French gambling regulations stipulate that online betting brands can offer markets on sports betting, poker and horse racing. You may be thinking, why has GAMING1 – which predominantly focuses on the gaming sector – pinpointed France as a potential expansion opportunity?
Carrion turned the conversation towards the potential regulation of online casino in France, expressing his belief that it's only a matter of time before the government begins to capitalise on the tax revenues that could be generated by gaming companies.
France has one of the largest land-based casino markets in the world, excluding Asia and Las Vegas. When entering a new market, GAMING1 tends to partner with a local land-based operator to create a localised online offering. But when it comes to France, "it's not that simple".
The Chief Commercial Officer said: "We have a partnership with JOA for Joabet. In our typical format, we would partner with a big land-based group by linking up with JOA, and off we go. But in France, it's not that simple.
"The cross-over between sports betting and land-based bettors isn't what you'd think. They're two completely different beasts that require their own unique strategy. That's quite difficult for any casino group to get their head around.
"If you want to open a land-based casino, you can apply for a licence and then either build a property, take out a mortgage or rent the premises and off you go. You don't have to put €10m up front. But for online, you need to spend at least €40-50m on marketing just in your first year, plus then money to develop the platform.
"Cashflow wise, it is very different to the land-based sector. The return is a totally different business. We operate nine land-based casinos in France because we believe that the market will inevitably regulate the online casino sector at some point. If that happens, I think there will be a connection between brick and mortar and online in one form or another."
La clé du succès
It might sound obvious to say, but the key to success in France is to be, well, French. This doesn't mean that international operators can't pursue French expansion, but rather that those looking to get in on the action must localise their offering.
Note to self: translating a buzzword phrase into French to use as a subheading may not be sufficient when engaging with French bettors.
Carrion drew particular attention to the work of Winamax, an operator that he believes has been leading the way on creating localised campaigns.
This, he said, has been achieved through the tone of voice used, brand image, markets offered and even the types of communication used to engage with players – all of which shows a true understanding of the different demographics betting with Winamax.
"You really need to understand the market you operate in – from payment methods, to the providers operating in that market, and even what makes an effective marketing campaign," Carrion added.
"I think the days when we arrived on a market, offered a normal product and could be competitive are over. French players haven't forgotten the bad offers either. It is also true that players have long played on offshore sites, which are incredibly competitive and impose very few restrictions. This is a major difficulty to consider for the regulator and for legal operators like us, who are subject to strict frameworks – but which are also necessary in certain measures to guarantee player protection and responsible gambling. We would be delighted to provide the regulator with our views if they asked us to do so, to help combat illegal gambling.
"It is also fair to be aware that brands are going to have to make considerable efforts to ensure that the user interface is correct, otherwise they risk losing players to the black market. When it comes to payment methods, some methods may look good on paper, but if they're not the methods players are using, it's going to get complicated – which means players will then visit another site. UX is king."
Finding a regulatory balance
The conversation around the potential developments in France soon turned into a discussion around the need for regulators to achieve a balance between measures that are most beneficial for players and ones that will not prevent operators from being able to run a business.
As has been the case in countries such as Sweden and arguably the UK, we have seen regulators introduce more stringent measures in a bid to curb problem gambling. However, in some cases, this has driven players towards the black market.
To avoid this from happening further, Carrion called upon the industry to work alongside the regulator to create "new and innovative ways" to best protect players without being too intrusive on background checks. This, however, is easier said than done.
"We often have discussions around safer gambling, but players should have full control over their activity. We do have to keep in mind that there is a risk that perhaps players can't regulate themselves, so this would have to be something that we keep a close eye on. There has to be a line before there is further intervention from the regulators. At GAMING1, for example, we pay close attention to this. We are constantly developing our proprietary detection and prevention tools based on artificial intelligence, which detects potentially problematic behaviour at an early stage. The aim is to make players aware of their responsibilities, and to intervene if it appears that they are having difficulty regulating their behaviour.
Carrion added: "Sometimes I wonder if policies such as advertising bans are more politically motivated. The reality is, it is difficult to achieve an outcome that is beneficial for everyone – it would be more effective to place more focus on understanding the ins and outs of responsible gambling.
"How do you implement RG strategies effectively? What is RG and what does it actually entail? Why not reward the operators that hit particular safer gambling goals rather than penalising those who don't? There are so many ways this could be approached. But, I will say, this is much easier said than done."
Extensive checks on players are not necessarily a bad thing, Carrion argued, as it gives operators the confidence that people are betting responsibly and are not at risk of harm. There is a significant risk that players might not want to provide this financial information. So rather than not betting, it may result in increased channelisation towards the unregulated market.
He continued: "I do think that can be a good thing as it means that you can check that players can afford to gamble. But on the flip side, it is quite intrusive. If players don't want to provide that information, rather than not gambling, there is a risk that they will go to bet on a black-market website. The numbers might show that players aren't gambling as much, but that won't take into account those using offshore sites.
"The industry as a whole really needs to come together to understand what happens when new legislation is introduced, and then maybe we can all work towards a better solution.
"I do think that every regulator in every country is trying hard to get the industry to a better place. They are really trying hard to make responsible gaming an important part of our industry, and I think that is great. Because otherwise, there's a lot of things that if you're not explicitly told you have to do them, many companies will choose not to. This is clear.
"So, I just think that, generally speaking, they're trying hard. But it's a new industry. It's evolving very rapidly. And I think we still have a long way to go to get it all right."
Looking to the future
With France and the Netherlands forming the next chapters in the GAMING1 story, CasinoBeats quizzed Carrion on what the next plot twist in the company's tale will be. To make a pun from his time in the poker industry, Carrion was very much keeping his cards close to his chest.
One thing is for certain, however. GAMING1 plans to continue on its path of growth and maintain its market-leading position.
He concluded: "We're investing heavily in our technology to show our strong vision. We are confident that we can make a more entertainment-led product, so we therefore want to spend a fair amount of time working on that and adapting our product to each of these markets.
"We come from a point where we are very Belgian-focused. But now we're in a position where we are positioned in several countries. We have had early success with this, so that's put us in a good place. Now we need to maintain that.
"To grow even further, we need the second stage of fine tuning our products. We've learnt over the last few years that you really need to understand what makes you, what your strengths are and what you need to compete.
"You can't spread yourself too thin. It's very seductive to try to be everywhere all of the time, but you end up losing your focus. This then becomes a problem. We want to have strong positions in the markets where we are present. We believe we can still grow a lot by staying where we are. So, I'd say that that's really where we are. I don't see that changing in the next 12 to 18 months minimum."
You can read part one of David Carrion's interview here