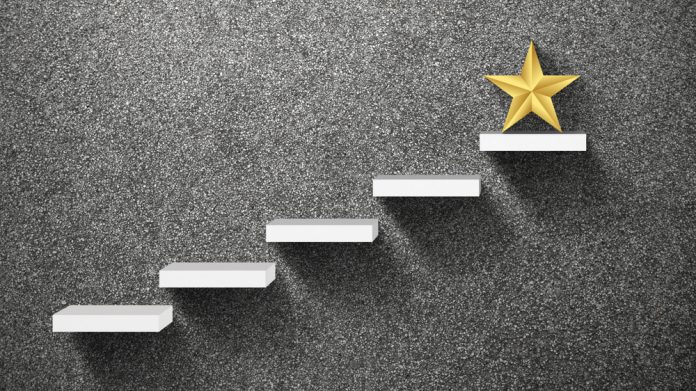 The US commercial and tribal gaming industry contributed $328.6bn to the US economy through the past year, fresh research by the American Gaming Association has revealed.
The inquiry, undertaken by Oxford Economics, also highlighted that 1.8 million US jobs were supported, with $104.2bn of wages and salaries and $328.6bn of business sales.

A total of $53bn in taxes generated through the past year provides critical funding for local public programs and services, including education, infrastructure and economic development, as well as supplemental revenue for state general funds.
According to the AGA, a total of $150.3bn in business sales includes $125.9bn of spending at land-based and online casinos and sportsbooks, $16.1bn of catalytic spending by patrons on casino trips and capital investment and $8.3bn of sales by gaming equipment manufacturers.
Furthermore, casino revenue is said to have totalled $122bn, which comprises $75.9bn (62.3 per cent) at commercial venues and $46bn (37.7 per cent) at Native American gaming facilities.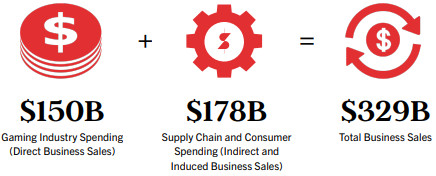 Of this figure, 83.1 per cent was from gaming, with the remaining percentage coming via food, beverage, lodging and entertainment.
Catalytic spending of $13.5bn represents spending by patrons at other businesses during their casino trip, including $4.9bn on transportation and $2.4bn of spending at restaurants outside of casinos. 
Ongoing capital investment projects came in at $2.7bn through the past year, covering development, expansion, renovation and upkeep. This excludes spending on gaming devices.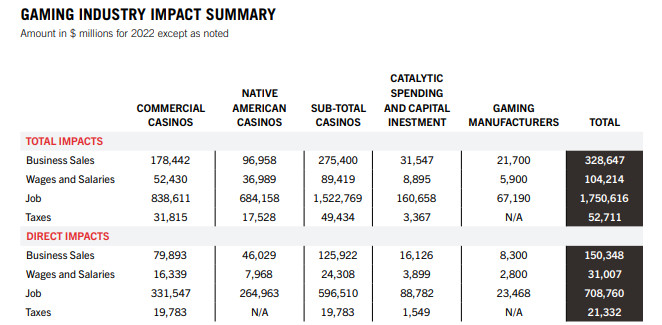 The industry is also said to directly employ nearly 709,000 individuals, which comes in at approximately $31bn of wages, salaries, tips and benefits.
This includes almost 597,000 jobs on-site at casinos and corporate offices, around 89,000 jobs at businesses serving casino patrons during casino trips or involved in casino construction and renovations and more than 23,000 jobs at gaming equipment manufacturers.
Specifically, commercial casinos employed almost 332,000 employees who earned $16.3bn in wages and benefits, with those figures Native American venues coming in at 265,000 employees who earned $8bn in wages and benefits.
"The US gaming industry delivers long-term growth and impact to communities, generating significant tax revenue, creating strong jobs, supporting local small businesses, and funding critical community priorities," said AGA President and CEO Bill Miller.
In addition, further recent research also suggested that top gaming executives are remaining positive when it comes to current business conditions.