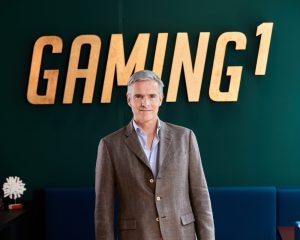 From oil and banking to the gambling sector – in far flung locations around the world – Didier Perez, Chief Human Resources Officer at GAMING1, has amassed a formidable vault of HR experience.
Here, in a brace of interview write-ups with CasinoBeats, he talks about his journey thus far, and the industry's need to focus more acutely on environment, social and governance matters. 
The eternal student
Taking us back to the beginning of his career, Perez spent the first 25 years of his life living in Colombia. But his work and studies soon took him around the world – from Mexico to Japan, and from Geneva to London. But for the last few months, Perez has been settled in the Belgian city of Liège where he leads the Human Resources department at GAMING1.
He didn't always work in HR though. Perez actually started out in law, but his quest to constantly learn new subject matter soon led him to human resources. He began: "In a way, you could consider me to be the eternal student; I am always looking for new opportunities to learn and share my skills. I do really think that is the purpose of life. 
"I have over 25 years of experience in human resources, having worked for a number of different companies. I used to work for British Petroleum in the oil and gas industry, Charter Bank, Experian credit services and then Aimia which is about loyalty solutions. So I've worked in lots of different sectors.
"I ended up at GAMING1 in Belgium because I was contacted by a headhunter who offered me a fantastic opportunity to run the HR department at a company which is in full transformation mode and offers a great combination of both land-based and digital services. I was interested in the opportunity from the get-go."
It was the "warmth" felt during the interview process that led Perez to say yes to the role of CHRO. And, six months later, he has well and truly settled in.
One of the key responsibilities that Perez helps oversee at GAMING1 is the development and implementation of its ESG strategy, both on an internal and external level. ESG, for him, should be an integral part of any organisation's operational strategy.
He said: "We don't really have a choice to view ESG in any other way than it being hugely important. I think that big organisations and multinationals are responsible for building a better world.
"It shouldn't just be left up to the politicians or international organisations – they may be in positions of power, but quite often, the ability to enact change is left to those who contribute to the economy. This is why I think that every organisation should have a higher level of social consciousness. We should want to contribute to a better world."
Perez shared that the wider ESG strategy can also influence HR practices as it shapes the values you want your workforce to reflect.
He noted that when it comes to hiring new team members, many interviewees highlight the importance of working with a company that is socially conscious and sustainable.
"We're seeing a greater level of social consciousness across all different generations – it's not just about money, profits or career advancements now. People want to work for, and partner with, companies that help create a better world," Perez continued.
"If we want to attract the right people to work with us, we have to open ourselves up and discuss these bigger issues. In the gaming industry, we pride ourselves on being an entertainment company. But we need to consider how we can provide access to entertainment in a healthy way. This is something that is incredibly important to GAMING1. To reflect this, we have created our own values that are very much in line with ESG."
You talk the talk, but can you walk the walk?
The decision to deliver an entertainment-first, safe environment for players was something which Perez appeared to be very passionate about during the interview. And for good reason.
Promoting responsible gambling resources to players is of great importance to GAMING1. But the company also makes sure that its employees are well versed in the tools that are available to gamblers by providing extensive training to each person that works for the company.
Perez said: "GAMING1 talks the talk and walks the walk when it comes to responsible gambling. And I think our players know that. We don't just spread awareness about safer gambling to players in the outside world, we have to make sure our employees know and understand it too. If our workforce understands and is confident in the responsible practices that we are offering to players, then that will be evident to players.
"We believe that we are part of an organisation that wants to provide better support to players who use our sites. We have to do that in a responsible way to best protect players from illegal betting sites that don't offer the necessary tools to gamble in a safe manner."
The training, which is spearheaded by GAMING1's compliance department, draws upon artificial intelligence to help employees spot signs of problem gambling.
It also aims to provide information on the tools that are available to players and how best to enjoy gambling in a safe manner.
By doing this, Perez believes that GAMING1 is going "above and beyond" the minimum requirements set out by regulators. He added: "We don't just want to do the bare minimum; instead, we want to have a sustainable business that provides a safe, enjoyable form of entertainment. Ultimately, if our players feel safe then they are going to recommend us to other people."
ESG is part of our DNA
The importance of ESG is something that Perez noted has been a core value of GAMING1 since the company's inception. This is largely due to the way in which the company was founded.
The CHRO shared that GAMING1 is really an amalgamation of ideas from three entrepreneurs, each of which comes from a different background. But by creating somewhat of a melting pot where these different ideas and principles can come together, the company has been shaped by a desire to "create a brighter future".
For Perez, the company's culture was slightly different from what he had experienced in the past. He said: "I have come into GAMING1 from a more traditional, multinational background so some of the ideas have even been new to me. But their stories, their emphasis on career progression and the focus on culture is integral to everything that they do.
"GAMING1 trusts people to get the job done. But they also know that the wide array of experiences in the company is a great thing – we have people that have joined GAMING1 from the food and beverage sector, transport, you name it."
Perez concluded: "The company acknowledges that this range in experience is what brings different perspectives to the table. This is where creative ideas come from. You would think that after 25 years of experience that I might have all of the answers, or that I will know exactly how to navigate all of the challenges that are going to arise.
"The world of work is always changing, but one thing remains the same: equity. We don't necessarily have this as an overt policy at GAMING1, but it shapes everything we do. It really is a part of our DNA."
Part two of the interview will focus on HR practices and the creation of an inclusive workplace culture, so stay tuned!