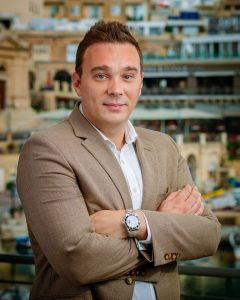 We've all got a favourite series. Whether it's a classic box set or a Netflix drama, there are certain entertainment franchises that resonate with individuals. For the gaming industry, one vertical that lends itself nicely to the creation of a series is the world of slots.
One slots series that has proven to be very popular among players is the Money Train franchise from Relax Gaming. With Money Train 4 recently making its debut, CasinoBeats sat down with Relax Gaming CEO Simon Hammon to discuss the launch of the title.
Hammon reflected on Money Train's first journey into the world of slots, the challenges of creating multiple sequels and the platform of success that Relax Gaming has created for the Money Train franchise.
All aboard!
The original Money Train game first made its debut back in August 2019. With a Wild West theme and a soundtrack that wouldn't seem out of place in a classic Clint Eastwood film, the title soon proved to be a firm favourite with players.
Its origin story is much more than just a brainstorming session between game designers, however. Hammon told CasinoBeats that the idea for Money Train came about after a trip to a conference back in 2018, where the team played a particular slot which left them feeling somewhat underwhelmed.
He began: "In short, the mechanic in Money Train 4 was born out of disappointment from what is available to players; mechanics weren't responding as we expected. They were simply collecting symbols and nothing else. We wanted to change that.
"So, the team came back to the office and got to work. They wanted to create something engaging – so they added a lot more features, paylines and punch. When you've got something like that, which works so well even in prototype, it is really exciting. As a general rule of thumb, we never root a gaming in design. It's always rooted in mechanics."
Once the team had created the mechanic, they turned their attention towards the theme. For Hammon, there were two directions that Relax Gaming could take: create a design that is incredibly unique, or reinvent a classic.
As we all know, Relax Gaming fired on all cylinders and went down the classic route, adding its own twist with the development of an extensive narrative and back stories to the individual characters within the title.
The next stop is …
After the success of Money Train, it was no surprise that Hammon and the team decided to build upon the title and create another in the series. This was soon followed by Money Train 3 and, most recently, the hit Money Train 4 which made its debut at SBC Summit Barcelona.
But making a sequel isn't easy. We've seen it in the film industry – you just have to look at Blues Brothers 2000, Jurassic Park, Fast and Furious or even the Jaws franchise to see that a spin-off rarely becomes a box office hit.
But Relax Gaming has made it look somewhat easy to buck that trend, with the flankers continuing to outperform their predecessor.
Hammon continued: "Making a successful sequel is, arguably, much more difficult than creating an original idea because expectations are that much higher. As we've seen with films and even some slot titles, quite often the sequel can leave people feeling disappointed. I would actually say that is much more common than having a sequel which has been as strong, if not stronger, than the original.
"I say this, but Money Train 4 is different. We identified what has worked well, what we could improve, and from that we created something unique on so many levels. For the narrative, we wanted to develop this with every new iteration of the game."
With each new title in the Money Train franchise, the Relax Gaming team has critically analysed each version to see what has resonated with players, and probably more importantly, what might need some work.
For Hammon, "daring to change the narrative and reinvent features" is what he believes to be the driving force behind the series' success. He commented: "When you want to keep a series that keeps its momentum, I think you have to be critical about the previous launch. What was lacking? What were the players saying? What is being said on the different forums? And most importantly, how can we improve this for next time?
"You need to monitor that and make sure you address those challenges in the future. Dare to make changes, because you never know if it'll work until you try it."
Analysing players' responses to each of the new titles has clearly paid off. Hammon highlighted that since the launch of the original Money Train game, each new iteration has outperformed expectations.
He said: "Money Train was a huge success, but then Money Train 2 steam rolled out of the gate. That was much bigger than the original, it was a huge success. But to make things even better, Money Train 3 then came along and exceeded all our expectations. It was bigger than we ever thought it would be.
"Money Train 3 really was a blockbuster success. We had a real challenge on our hands to beat that. But we did identify things that needed to be improved, so that's exactly what we did. You can't just release a sequel that is the exact same thing. We have changed the narrative quite heavily. We have not been afraid to rip up the rulebook and it's certainly paid off.
"It is extremely difficult to create a sequel that is better than the one before. But we've actually managed to achieve that with every single Money Train release. We critically analysed what worked, what doesn't, and we dared to create something different. Obviously when you do that, you can risk alienating some players who preferred the original, but I think we've managed to keep it engaging and keep players coming back for more."
As Hammon explained to CasinoBeats, Relax Gaming isn't the first studio to create a series of titles, nor will it be the last. But in his view, a successful series of games can act as a useful tool for casino operators looking to engage with new audiences.
"I do believe that the Money Train franchise has really ignited that love for a series within the gaming industry. We were very careful about ensuring that this was the right title to create a series though.
"In the wake of so much competition, some suppliers might think that because one title has been successful, it warrants a second, third or even fourth release. But a series isn't necessarily a marker of success.
"I do, however, believe that the creation of a successful series can be an important acquisition tool. There tends to be a natural curiosity from players who enjoyed an original – they might want to see what is different."
The decision to create a sequel isn't one that should be taken lightly, Hammon explained, as he pointed out not every great hit needs a follow up.
There is one factor that he believes should determine whether or not a studio should create a series: the mechanics you're using. "If we look at the wider industry trends, what we have seen is that when a supplier sees a successful game, they instantly think that they have to make a second, third or even fourth instalment. But the mechanics that they are using doesn't always lend itself to that," he said.
"You shouldn't just create a series for the sake of it – it shouldn't just act as a cheap marketing and quick acquisition tool because players will quickly notice and get bored.
"The difference with Money Train 4 is that we could have easily taken that mechanic in so many different directions. In fact, when we've developed games in the past, we've had a whole shopping list of features that we've wanted to include. But when it comes down to fine tuning, we end up removing a lot of those features – sometimes the features were too much, or the maths was uncontrollable.
"But for Money Train 4, there was so much we wanted to add. I think the key to developing that franchise was because the mechanic itself had so much depth. It wasn't just thrown in there for the sake of including a mechanic. It was justified, and it has made the game what it is today.
"Relax Gaming has never been a studio that just churns out more of the same in the hope of racking up some easy wins. We're not about that at all. I think we've done the Money Train series justice – it'll go out on a high."
On track to beat records
Since its launch, Money Train 4 has outperformed every other title in the Money Train franchise. The title has racked up 33 max wins to date, and even one player that won €149,924 during the first week.
It was evident just how proud Hammon was of the team behind Money Train 4 and the effort they have put into ensuring the title is a success. For him, the game has exceeded the "very high expectations" that he had set out before its release.
The CEO continued: "I initially thought we should perhaps be conservative in our outlook for monitoring, but it's surpassed those expectations and then some. We're seeing exceptional numbers each day and it has had a stronger day launch than Money Train 3, which was previously our best performing title."
One of the biggest surprises since its release was the influx of new players enjoying Money Train 4 and the Money Train franchise itself.
Hammon added: "We predicted that there might be some cannibalisation of previous titles. But Money Train 4, in its own right, has been massive in terms of volume of new players trying the title as well as the previous iterations. Interestingly, I would say that the bet per round has been lower than other games.
"The reason for that, I believe, is because of the work we have carried out on the base game. People are playing the base game rather than buying as many bonus features, which was something we tried to target with Money Train 4.
"We have seen that it has also reactivated the interest with other Money Train games too which was quite a surprise, but something we're also very happy about."
Making a mark
In the run up to the release of Money Train 4, Relax Gaming poured considerable time and effort into elevating its marketing campaigns. This not only sought to ensure that new players knew about the game, but it also aimed to make existing Money Train players aware of the new release.
The additional marketing included creating teasers, interviews, visual advertising and even videos that tell the backstory of each of the characters in the franchise.
In Hammon's view, he wanted to make sure that the Money Train franchise ended on a high. And judging from the game's performance so far, they have achieved that.
"To have a successful sequel is difficult enough, but to have consecutive titles consistently outperform one another is almost unheard of. And I don't see how anyone can match that," Hammon added.
"As game designers, you want to be able to leave your mark on the industry. You want to be able to create something that is well known, something that people are going to look back on and say 'wow, that was really awesome'.
"We had the Money Train: Origins Dream Drop title earlier this year which was the Dream Drop version of the game, making that five games in the Money Train series. Add the four Money Cart games as well, so that's nine games – That's a lot. There is only so much track that you can put in front of yourself before you have to bring the train to a halt."
While this might be the end of the line for the Money Train franchise, Hammon turned his attention back towards the mechanics that inspired the series to begin with.
Relax Gaming, he noted, has found itself in a fortunate position in that it has created a mechanic and a range of features that could "easily be turned into other productions".
He continued: "These features don't just have to exist within the Money Train franchise. We have seen that they have been successful, we have seen what players have enjoyed and what they've latched on to. In the future, we could potentially use those features in another production. But for Money Train, this is the end of the line. And it's the last instalment for a reason.
"I don't see how another supplier has launched a more successful game on day one. We've had the number one and number two best launches from any supplier in the industry. And when you have that, you don't want to spoil it. We've created something incredibly special here, it has smashed records and for that, I'm so proud."
An emotional final journey
As the interview drew to a close, it was obvious that Hammon was extremely pleased with Money Train 4's performance to date. But to end the journey here, he said, was somewhat of an emotional decision.
He highlighted that many players have seen the title grow and evolve since it was first released. But to end on a high was the right decision.
He concluded: "When the original was first released, that happened at a very similar time to when we started our own casino content journey. If you fast track to where we are now, we've grown so much. We've had the biggest ever launches in online slots history, and there has been so much hype from players too. So, I am unbelievably proud of what we've achieved.
"If I look back to when we started our casino journey and predicted where we could be in four or five years' time, I would never have imagined that this is where we would be. I'd have bought a ticket for the Money Train there and then.
"It is also a testament to what Relax Gaming has achieved. We've not been concerned with what other people are doing; we've focused heavily on creating quality content that is fun and engaging for players. I strongly believe that quality will always rise to the top."