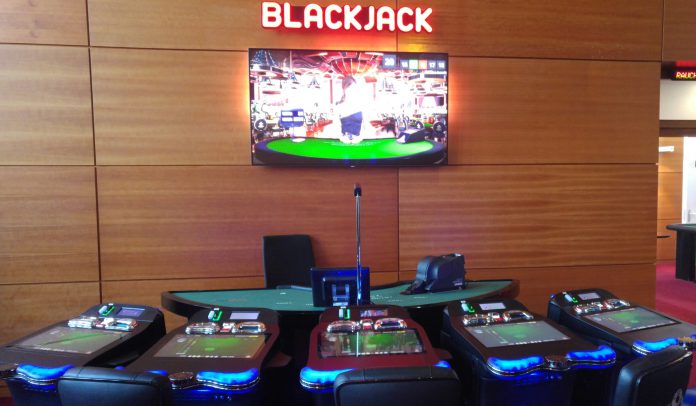 Spirit Gaming, the distribution partner for Interblock in Germany, Austria and Switzerland has announced that the very first installation of the dealer assist blackJack in Europe has taken place at Spielbanken Bayern in Germany.
The new technology which is being utilised at the Casino Bad Steben in Bavaria, has allowed management at Spielbanken Bayern to demonstrate its focus on introducing new, innovative, entertaining and top quality solutions, setting a precedent by being the first in entire Europe to introduce the Dealer Assist BlackJack from Interblock.
Udo Braunersreuther, Director at Casino Bad Steben, detailed the benefits for players that come with Interblock's latest launch: "This is exactly what we have been looking for. As a smaller casino, we are now in the position to offer BlackJack around the clock. That is a real benefit for us. Furthermore, the quality of this solution and the know-how of both Spirit Gaming and Interblock convinced us that we have the right partners here."
The Dealer Assist BlackJack combines two key elements to ensure 24/7 BlackJack enjoyment – the possibility to play both with and without a dealer. This terminal-based semi-automatic BlackJack can be used for live BlackJack, thus with a dealer. Casino Bad Steben has five player positions – and a camera portrays live images of the cards from the dealer table onto the individual terminals. The great benefit of this solution is that it can be used for automatic BlackJack as well – meaning that BlackJack can be played on the terminals without the need of a dealer.
Hans Frankenbusch, Head Of Systems Technology at Spielbanken Bayern also stated: "The management team is extremely impressed with the Dealer Assist BlackJack and sees this as a real contribution in improving the gaming offer in the casino. Our customers really appreciate the 'Tournament Mode' in the semi-live version. Here they can practice and improve their game. I cannot see a better way to do this."