Sports betting specialist SBC Events, organiser of global conferences Betting on Football and Betting on Sports, is bringing its expertise to America in order to help the gambling industry explore the opportunities afforded by the Supreme Court's repealing of PASPA restrictions on the betting industry.
Betting on Sports America is a two-day conference to be held on 24-25 April, 2019, in New York City, and will bring together operators, suppliers, regulators, sports organisations and affiliates in one venue to discuss how the industry can be developed in what could be the biggest sports betting market in the world.
Betting on Sports America will consist of several tracks involving discussions from key industry speakers and be supported by an exhibition space showcasing the latest developments from the international betting industry.
SBC is already active in America via gaming industry news portal SBC Americas – www.sbcamericas.com. The company will use this knowledge and expertise to bring about the best possible conference content and speakers.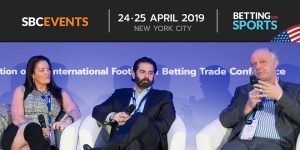 SBC CEO and founder Rasmus Sojmark explained: "There is understandable excitement at the removal of the constraints around sports betting and there is a unique opportunity now to draw up regulations and develop product for a hungry audience. However, sports betting is a complex beast which is why we think an event such as Betting on Sports America is the perfect forum for discovery and debate on the subject."
Managing director Andrew McCarron added: "A fusion of local knowledge from individual states and extensive operating experience from the European market can make a potent team, which is why discussions ranging across issues such as integrity, sponsorship, marketing and problem gambling will be key to a fully sustainable business."
Tobias Brunner, director of marketing operations for Sportradar, commented: "The launch of Betting on Sports America is an exciting development for the industry as SBC always deliver outstanding conference content. This event will undoubtedly be a top forum for discussions and debates around how the US sports betting industry may evolve over the coming years."
Ian Williams, president of online gaming at Churchill Downs, added: "SBC is a well-renowned business that has built a strong community around the sports betting industry. We welcome the addition of Betting on Sports to the US and look forward to further developing the industry here."
Jesper Søgaard, CEO and founder of Better Collective, said: "SBC are renowned for their sports betting conferences and rightly so. The breadth of expertise on show and the ability to network with the most interesting people in the industry makes every event an important date in the diary. I'm sure Betting on Sports America will be hugely helpful to businesses now that PASPA has been repealed."
Pinnacle CEO Paris Smith described last year's Betting on Sports conference in London as "the best week spent out of the office all year, and the most impactful networking opportunity in the industry".
If you are interested in knowing more about SBC Events and Betting on Sports America, please get in touch with CEO and founder Rasmus Sojmark ([email protected]) or managing director Andrew McCarron ([email protected])