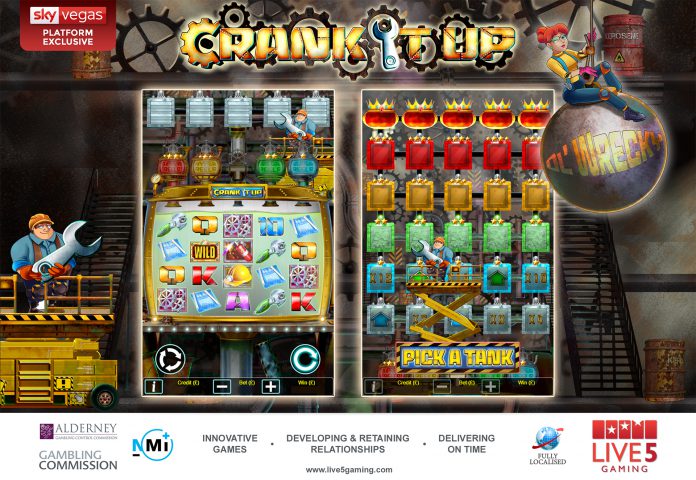 Live 5 Gaming's third release this year is steampunk themed, CRANK IT UP.
RELEASE DATE
June 26 2018.
THE PITCH
Live 5 Gaming gets industrial with its latest release CRANK IT UP – which features a Steampunk theme, great graphics and high entertainment value.
CRANK IT UP goes live on mobile with Sky Vegas on June 26 and is Live 5 Gaming's third release this year, proving once again the creative energy behind this rapidly expanding design house.
GAME DETAIL
CRANK IT UP is a 25-line game which includes enhanced reel spins, which are in the shape of coloured water tanks on reel 5. The more tanks exposed by the player, the bigger the payout chance. These reels contain more wilds and free spins, where the player can keep cranking up their winnings. When you think the free spins are over – the game reveals an extra surprise by introducing a CRANK IT UP multiplier which will multiply all free spin winnings from 2 to 10.
BONUS FEATURES
Achieve 3 pipe symbols anywhere on reels 1, 3 and 5 and you gain access to the pipe game bonus round, where you select a valve to open resulting in either a cash award or an advance up to the next level. The higher you get the bigger the reward.
Crank it up also contains hidden random bonus events. Look out for Peggy. She will ride the wrecking ball to guaranteed success. Also keep an eye out for the alarm siren, again this guarantees a winning event.
THEY SAY
"The Live 5 Gaming team is growing all the time and the number of new game releases is also increasing," says CEO Lloyd Butler. "CRANK IT UP epitomises our unique approach to game design. It is unexpected, wholly engaging and different from anything else out there."