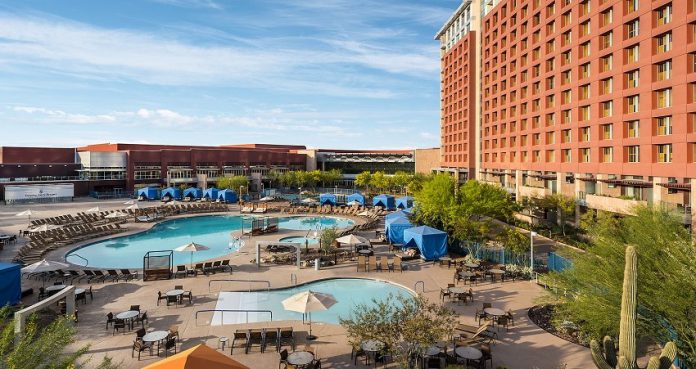 Scottsdale, Arizona based Talking Stick Resort has reopened its doors and is once again ready for business, following a period of prolonged closure due to storm damage.
Remaining closed since August 11 due to various counts of damage caused throughout the property, namely amongst administrative offices, meeting rooms and cafes on the lower levels, it is said that a long-term power outage was the chief obstacle in setting a reopening date.
Welcoming patrons once again at the end of last month (Sunday 24 September), the Salt River Pima-Maricopa Indian Community owned and operated property has announced a guest appreciation week, to thank its loyal hoard of customers.
Ramon Martinez, director of public relations at Talking Stick Resort, addressed the hype around business once again being taken: "There has been a level of excitement surrounding our reopening that has rivalled our grand opening in 2010.
"We hope to continue the momentum and show our appreciation to guests who have demonstrated patience and support during our closure."
During the course of the celebration, Talking Stick states it is to give away in excess of $150,000 in prizes, including two Polaris Slingshots worth more than $54,000 as part of the 'Amplify Your Winnings' promotion.
To win, guests will earn entries playing their favourite games such as keno, blackjack, slots and more, whilst in the hotel's Arena Poker Room, players can participate in the $100,000 Mega Hold'em Bad Beat Jackpot. The tournament is a continuation of play which began on September 27 with a $30,000 pot, with a further $10,000 added each day through to Thursday 4 October.
Beyond the plethora of prizes and promotions, which also sees a number of offers amongst restaurants and spa facilities, the resort has also launched a "comprehensive" advertising campaign.
The print, outdoor and television targeted advertisements, featuring the Talking Stick's hotel tower complete with LED lights shaped like an equaliser, aims to "communicate that the power is back on with more power than before," a video example of which can be viewed below.