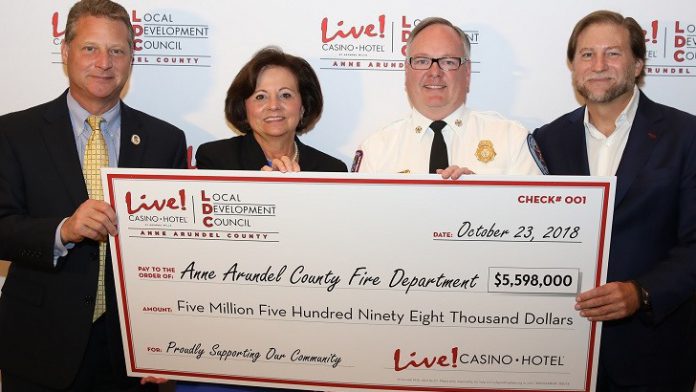 Live! Casino and Hotel, located in the Washington DC/Baltimore corridor, has partnered with the Anne Arundel County Local Development Council, to award a total of $19m in local impact and community grants, to a variety of organisations in Anne Arundel County for FY 2019.
Bringing the total pledged to $130m since the property first opened its doors in June 2012, with the grant and funding recipients officially announced at a ceremony at Live! Casino and Hotel.
Amongst those attending and accepting grants included Anne Arundel County police chief Tim Altomare, Anne Arundel County fire chief Allan Graves and Rebecca Paesch, vice president of strategy and business development for the Baltimore Washington Medical Centre.
Joe Weinberg, managing partner of The Cordish Companies, who owns and operates the Live! Casino and Hotel, commented: "Live! Casino & Hotel and The Cordish Companies feel a deep commitment to improving the quality of life for all those who live and work in the Region.
"The opening of Live! Hotel and the Event Centre that will house County school graduations and other community events only increases our support of local programs which promote schools, public safety, diversity, community development and an excellent overall standard of living."
The grant allocations were recommended by the LDC, which helps to manage the distribution of the county's gaming tax revenue to local organisations, with recipients ranging from county operational and capital programs, education, health and human services and community associations.
Anne Arundel County Executive Steven Schuh, stated: "Live! Casino & Hotel and The Cordish Companies have played a tremendous role in helping our community prosper, with their unwavering support of organisations and programs that serve the citizens of Anne Arundel County.
"From the fire and police departments to nonprofits that protect our most vulnerable population, we see great value in this partnership that gives back year after year."
"Live! Casino & Hotel remains a valuable partner in helping us address the needs and priorities of the county," added Karen McJunkin, LDC Chairperson. "We look forward to maintaining this beneficial partnership that supports county development. We are also thankful for the indirect impact from visitors to Maryland's number one tourist destination. Their entertainment and gaming dollars have had a tremendous impact in fostering growth for county organisations."