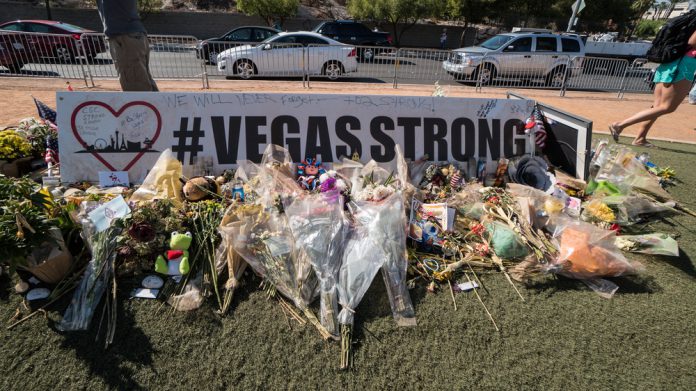 MGM Resorts International has unveiled plans to transform the Las Vegas Village in to a community and athletic centre, as well as a parking site for the Allegiant Stadium. 
The arena is to serve as the home for the National Football League's Las Vegas Raiders, as well as the University of Nevada's Las Vegas Rebels college football team.
Almost two years ago, on October, 1, 2017, 58 people were tragically killed and hundreds more injured when a gunman opened fire on a crowd of 22,000 at the Route 91 Harvest music festival from the Mandalay Bay, with the site remaining closed since the next morning.
The 15 acre site, which along with the Mandalay Bay is owned by MGM, is to now be split into two sections, the company confirmed in a media statement.
At the north end of the property MGM is to build a community and athletic centre with the south to be used for parking, with the firm also stressing that it's to create a space "to remember the victims of the tragedy".
In it's statement MGM explained: "We know that for many, the Village property will forever be linked to the tragic loss of life that took place there on October 1st. We will never forget the victims, and all of those impacted by that evening. 
"As the second anniversary nears, we remain committed to being part of the community effort to continue healing and moving forward. In this spirit, MGM Resorts plans to build a community and athletic centre on the north end of the property, which will be home to sporting events and community gatherings. 
"We hope one day it will host high school basketball tournaments, indoor soccer for kids and provide a place for the Aces to practice and engage with the community to inspire the next generation of female athletes.  
"It was important to us that the long-term use of the property include the community in some way. We also plan to create a space on the property to remember the victims of the tragedy.
"In the near term, while these plans are underway, the property will revert back from festival grounds to a parking area and will serve as parking during games and concerts taking place at Allegiant Stadium. 
"Over the coming weeks and months, there will be construction activity near the property to ensure the safety of pedestrians crossing the street toward the stadium. We will share plans for the community and athletic centre as they advance. We will also support the future community effort around a permanent, public memorial when that process begins."