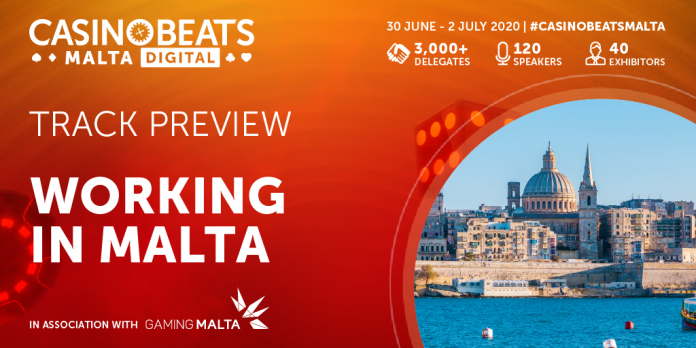 CasinoBeats Malta Digital is set to take an in-depth look at the major recruitment and workforce management challenges facing operators and suppliers in Malta, with input from some of the leading HR professionals in the igaming industry.
The virtual conference and exhibition runs from 30 June to 2 July 2020, and day one is devoted to the subject of Working in Malta. The content track, sponsored by GamingMalta, will be accompanied by a series of themed networking events to allow delegates to share their own ideas and learn from each other.
How gaming businesses can cope with skills shortages, develop a positive workplace culture and offer the right support to staff as the industry recovers from the COVID-19 lockdown are just some of the issues set to be examined. While the agenda is focused on employment-related issues in Malta's igaming community, many of the topics will resonate with HR directors and managers based further afield.  
One of the key sessions is Workplace Culture & Wellbeing, which features a panel of HR specialists from world-leading gaming businesses, including Lena Nordin (Chief HR Officer, Betsson Group), Cindy Macintos (HR Director, Pinnacle) and Richard Gordon (Employer Brand, Recruitment Marketing & Social Media Manager, GVC Group). 
They will look at how gaming companies can develop a well-defined workplace culture and how that benefits them in terms of recruiting and retaining the right staff in what is a competitive market. The panel will also share their ideas on how to attract skilled workers from overseas to Malta, while trying to prevent a salary-driven revolving door employment market developing on the island. 
Two further sessions will address how to overcome the difficulties in finding the right team members, as Malta's reputation as the home of the online casino industry attracts more companies to relocate and an increasing number of innovative start-ups. 
Mind the Gap: Skills Shortage will investigate whether there is potential for igaming businesses to attract specialists from other sectors and look at which skills are genuinely transferable. Malta Gaming Authority's Head of Information Kinga Warda and igaming consultant Anna Wallenstein will be among those debating whether the island's casino industry is doing enough to nurture the talent it already has. 
The Resourcing Challenge will then look at the issue of how gaming companies can ensure they have the skills required to fulfil their compliance responsibilities. A panel featuring Sarah Yorston (Head of HR – South Europe, LeoVegas) will evaluate whether the positives of using third-party specialists outweigh the benefits of undertaking ongoing staff training to build stronger in-house compliance teams. 
Another important issue is to be tackled during the Destination Malta: COVID Update session, which will focus on how the island's gaming industry plans to recover from the lockdown. Fiona Brown (Chief HR Officer, Catena Media) and communications specialist Natasha Gowans will also look at what businesses can do to support employees during the recovery and continue to bring in the additional skills they need to achieve their growth targets. 
In addition to the HR content and a keynote presentation by GamingMalta's COO Ivan Filletti, delegates attending the first day of CasinoBeats Malta Digital can participate in themed networking sessions focused on the opportunities for workers in the island's igaming sector and the country's appeal as a destination for start-ups. 
Stewart Darkin, Managing Director of CasinoBeats, said: "While all businesses in the online casino industry focus on technology, games and marketing, the really successful ones also understand the importance of looking after their staff and getting their recruitment procedures right. 
"Our speaker line-up includes HR professionals responsible for ensuring that happens in some of the world's best-known igaming companies, so delegates can expect to pick up some invaluable insights on both Malta-specific and industry-wide employment issues." 
The CasinoBeats Malta Digital agenda also includes tracks about the Future of Gaming, Technology & Innovation, Regulation & Compliance, and Payments. 
Away from the conference rooms, the 3,000 industry delegates will have multiple opportunities to make new contacts. In addition to the schedule of themed networking sessions, attendees can take part in workshops with sector experts, join in group discussions in the virtual networking bar or use the event platform's chat facility for one-to-one conversations. 
There is also a 40-booth interactive exhibition showcasing the latest products from both leading suppliers and innovative start-ups, along with a programme of product presentations running throughout the event.  
Find full details of CasinoBeats Malta Digital, including information about how to register and the discounts available on company group passes, at the event's official website. 
To find out more about exhibiting or to discuss the remaining sponsorship opportunities, please contact [email protected].