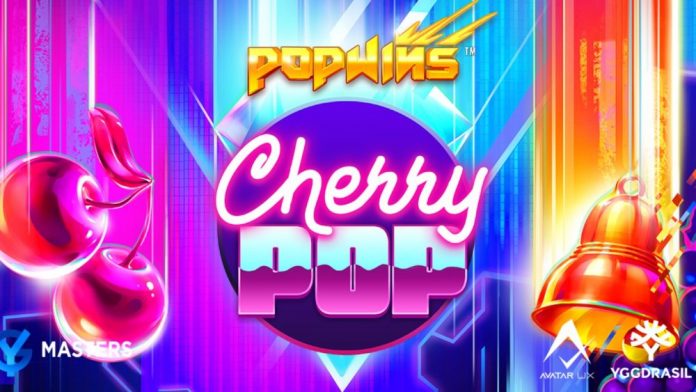 Yggdrasil and AvatarUX's third instalment of its PopWin series has been cherry-picked to claim SlotBeats' Slot of the Week.
CherryPop is a 5×3 title which uses AvatarUX's PopWin mechanic, which pays both ways, with winning spins expanding the reels up to a full 5×9 reel. The latest addition to the series is the latest title to be produced through Yggdrasil's YG Masters program.
Speaking to SlotBeats on claiming the award, Marcus Honney, managing director of AvatarUX, noted: "We are mighty honoured and extremely humbled! What a wonderful claim to have to our names, especially so soon after launch. 
"It really makes the team here at AvatarUX feel like we are being recognised as up-and-coming players in the slot creator landscape, and certainly encourages us! Thank you so much."
Detailing the thought process being the title, Honney explained the developers wanted to 'aim higher' and 'level up' from the company's previous two PopWins titles.
"During the development of CherryPop our team was striving to bring together a combination of customer feedback to drive new features into our game play," he said, "along with strong UX and engaging visuals, all backed up with our superb mathematical models. CherryPop also gave us yet another opportunity to showcase the versatility of our PopWins mechanic with the additions of the great new features.
"It was key to bring just that little bit more with CherryPop and I believe we delivered!"
During the base game, players can trigger the free-spin mode if they fully unlock all reels through popping wins, before unlocking three levels of the free-spins bonus, with higher multipliers and more reels possible.
Furthermore, players also have the opportunity to gamble their free spins, potentially winning more, using the gamble wheel. In certain jurisdictions, players can also go straight to the free-spins round with the buy bonus button.
Commenting on the slot's beta performances, Stuart McCarthy, head of partner programmes at Yggdrasil, revealed the title was a 'stellar performer', lauding its initial performance and 'showing every sign of becoming an instant classic'.
McCarthy continued: "We have been consistently impressed with the evolution of the PopWins mechanic since its first outing in PopRocks, through Wildpops and now CherryPop and look forward to releasing the next game in the series very shortly through the YG Masters program."