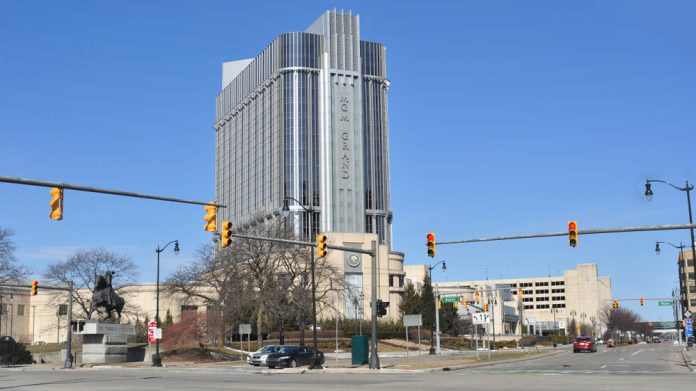 The Michigan Gaming Control Board has reported that revenue across Detroit's three commercial casinos dropped slightly month-on-month in February to $86.38m, while operating at limited capacity due to COVID-19 health concerns.
Falling a fraction from January's $90.84m, the figure also represents a 40.8 per cent decrease from the $121.7m published in February 2020, the final month before restrictions to mitigate the spread of coronavirus came into force. 
Containing a breakdown in the retail performance of slots, table games, and sports betting, the report comes ahead of the state regulator documenting the performance of its digital arena, which US media outlets say will come next week.
Market shares see MGM Grand Detroit occupy the spot as leader with 40 per cent, ahead of MotorCity Casino which comes in at 36 per cent, and Greektown Casino's 24 per cent.
The casinos' February table games and slots revenue of $86.46m dropped 29 per cent compared to the month's returns, with a fractional 0.4 percent drop from January's $86.78m documented. 
During the month, MGM's monthly gaming revenue declined 34.6 per cent year-on-year to $34.43m, MotorCity fell 22.9 per cent to $31.24m, and Greektown was down 27.3 per cent to $20.7m.
The Detroit casinos paid the state of Michigan $7m in gaming taxes compared with $9.9m for the same month last year, with the trio also submitting $10.3m in wagering taxes and development agreement payments to the city of Detroit.
Retail sports betting revenue produced an overall $77,627 loss, with the aforementioned trifecta of casino properties also documented to have scored a total handle of $23.71m.
Greektown Casino reported $114,814 in retail sports betting qualified adjusted gross receipts for February, with MGM recording a $8,761 loss, and MotorCity coming in at a $183,680 loss. 
The Detroit casinos paid $4,340 in taxes to the state on retail sports betting during the month, and also submitted $5,304 in retail sports betting taxes to the city of Detroit. 
Furthermore, the MGC also detailed that fantasy contest operators reported total adjusted revenues of $2.2m and paid taxes of $186,699 for January.