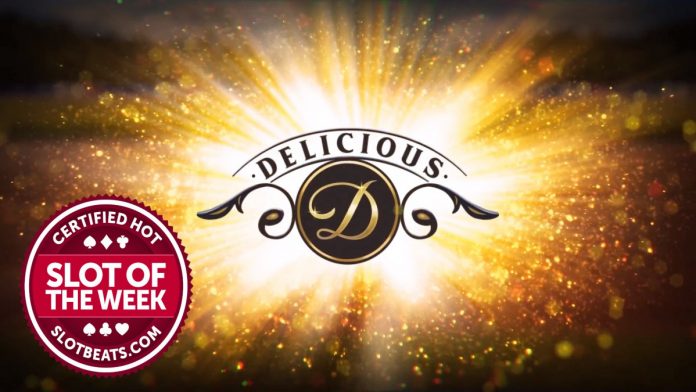 Delicious from Gaming Corps strutted its way to victory as the trotting-themed slot claimed SlotBeats' Slot of the Week award.
The first tailor made exclusive igaming product from Gaming Corps and inspired by the trotting horse Delicious US, the five reel video slot, which offers players a Free Spins round along with Racing Champion and Golden Cup symbols, was developed exclusively for ATG.
"It is with great pleasure that we present Delicious today. For Gaming Corps, it is a milestone to have developed our first tailor-made exclusive product," noted Juha Kauppinen, CEO of Gaming Corp. 
"This journey has taught us much along the way, lessons which have already been valuable in the work of further developing this business model. I would like to thank ATG for great, straightforward collaboration, and our team for the dedicated work on developing this product. 
"But above all, I want to thank board member Daniel Redén for his vision and drive. With a genuine passion for trotting and gaming, Daniel has managed to join his two worlds in an inspiring way, something which resulted in an exciting product."
Within this title, the bonus game comes in the form of a trotting race where the outcome determines the value of the prizes awarded to the player at the finish line. 
Furthermore, Delicious can appear and offer a potential challenge during the bonus race with higher value prizes awaiting the champion. 
The Racing Champions is a special symbol that triggers the bonus race. Racing Champion symbols may appear on reels two, three and four. When three land on the reels, the player is granted entry. In addition, the race can be triggered in the Free Spin mode if one Champion symbol lands. 
The Golden Cup is the Scatter symbol that triggers the Free Spins mode. This symbol can appear on reels one, three and five. When three land on the reels, the player is awarded 10 Free Spins.
Daniel Redén, board member at Gaming Corps, added : "Trotting, horses and animals have been, and always will be, my greatest interest and passion in life. Delicious was the turning point for me and my trotting career, she is more than just a horse; she has meant so much and taught me so much in ways that cannot be expressed in words. 
"Had ATG not liked the idea, this product would never have reached the market as it is very important to me that the Delicious casino slot is only available on ATG. That I am passionate  about trotting is not new, but through the collaboration with ATG my vision has been translated into something tangible which ensures that income from the game goes directly back to the sport of trotting. 
"For me, it means a lot to be able to  give something back to the sport that has given me everything. In addition, Delicious is a star who deserves to be made immortal, and with the help of this game we perpetuate her legacy in a new, innovative way. 
"As a company, Gaming Corps demonstrates the ability to carry out tailor-made projects with an eye for detail. Trotting will continue to be an inspiration for me in my work at Gaming Corps, and I hope this game will spark an interest in the sport. Have a lot of fun playing and pay attention to the details."
The title comes with an RTP of 96.265 per cent which players can experience by clicking here to access the demo on Gaming Corp's official website.