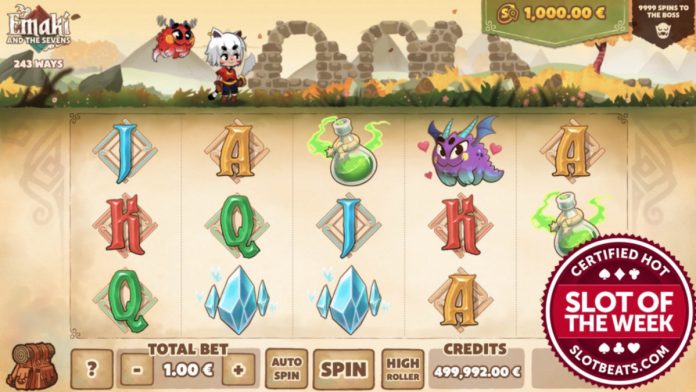 SlotBeats embarked on a monster slaying adventure as Gaming1's Emaki and the Sevens claimed its Slot of the Week.
Combining the worlds of casino and video games, the title, which consists of six different worlds, sees players slay monsters and collect loot within its featured free spins mode. 
Sylvain Boniver, COO at Gaming1, said: "Aimed at players with an appetite for adventure, Emaki and The Sevens provides an unforgettable entertainment experience featuring stunning graphics, immersive sounds and the brand-new Spin Quest feature.
"Marking the latest addition to our cutting-edge collection of slot, dice and table games, we have no doubt that the title will prove widely popular and cannot wait to introduce it to players."
Within the title, each playable world is composed of three zones with various landscapes, all part of a journey of 10,000 spins leading to the Renegade Boss. On the journey, players will battle various monsters, casting special attacks and collecting spin Quest gems during the free spins mode. 
During the free spins, the number of winning ways remains the same from the base game which triggered the bonus. Players must defeat renegade bosses, which are revealed after playing the required number of games in each world. Once slayed, Emaki secures the egg and worlds become unplayable until the spin quest mission. 
Additionally, the title comes with a high roller experience, which sees players start five automatic games by paying x20 or x30 the initial stake, depending on the choice between traveller or adventure.
Mystery chests may also appear during encounters or fights. These chests can replace any type of monster in the game, turning either into another monster, or with a bit of luck, a reward of golden coins and gems.
The title comes with an RTP of 96.74 per cent with a medium volatility level implemented within the gameplay. Readers who would like to experience a demo version of Gaming1's Emaki and the Seven can click here to be directed to the supplier's official website.