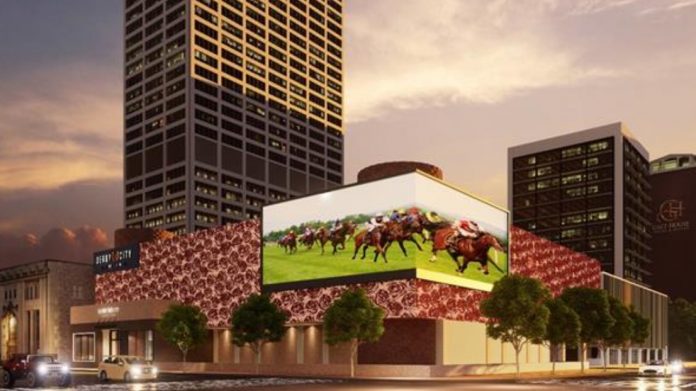 Churchill Downs has detailed plans for expansion in Louisville, Kentucky, which will bring the development of a new historical racing machine entertainment venue named Derby City Gaming Downtown.
The 43,000-square-foot venue will initially include 500 HRMs, a fresh-air gaming area and over 200 onsite parking spaces, as well as vowing to deliver unique bar concepts, a stage for music and live entertainment, and retail and merchandise store where guests can shop for Kentucky Derby-themed merchandise.
Construction on Derby City Gaming Downtown is slated to begin later this year with an anticipated opening date pencilled in for the early stages of 2023.
"Today, Churchill Downs becomes an important component of a downtown Louisville revitalisation that has been gaining momentum the last several years," commented Louisville Mayor Greg Fischer. 
"Downtown is our community's center, and as the economic engine of the region, our downtown also is our region's center.
"Derby City Gaming Downtown will bring even more life to Fourth Street with just shy of an acre's worth of space for more entertainment offerings, another stop for bourbon fans, a shopping outlet for Kentucky Derby merchandise and permanent jobs to downtown.
"Thank you, Churchill Downs, for your commitment, your investment and for your belief in our great city."
Furthermore, CDI has also made a pledge of $1m to the West End Opportunity Partnership, a collaborative community-led initiative that will finance projects to kick start economic development and quality of life improvements in a district comprising nine West End neighborhoods.
"CDI is committed to investing in the city of Louisville and today we are particularly excited to announce this new downtown entertainment venue," explained Bill Carstanjen, CEO of CDI.
"Our HRM expansion will be a win for the entire community in the Louisville area and will create $10m to $12m per year in additional purse money for Churchill Downs Racetrack.
"It is important that Louisville is a city that is thriving — a great place to live, work and visit and we are committed to helping create economic vibrancy for every area of our community.
"The West End Opportunity Partnership and our collaboration with OneWest can help us responsibly and sustainably achieve that vision."